California Men's Colony inmate escapes in prison van
October 30, 2018
An inmate escaped from the California Men's Colony Tuesday morning, allegedly driving off in a prison van. [Cal Coast Times]
Minimum-security inmate David Grey Hall, 26, was last seen at approximately 10 a.m. Shortly later, prison staffers determined during a count that Hall was missing.
When prison staffers went to check on Hall at about 10:15 a.m., they also discovered a state-owned van was missing. Hall was assigned as a worker in the Men's Colony garage, according to a California Department of Corrections and Rehabilitation press release.
By 10:35 a.m., prison officials implemented escape procedures, deployed search teams and alerted state and local law enforcement, including the CHP, which is assisting in the search for Hall. The missing vehicle is a white 1997 Ford Aerostar van with California license plate number E431260.
Hall is African American with black hair and brown eyes. He is 6 feet tall and weighs 184 pounds. The escapee may be wearing a lime green jumpsuit, according to officials.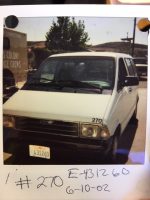 After being convicted of second-degree robbery in Los Angeles County, Hall was admitted to the Men's Colony on Dec. 22, 2015. Hall was serving a five-year sentence and was scheduled to be released to parole in Dec. 2019.
Anyone who has knowledge of Hall's whereabouts or sees the missing state van is asked to call 911. Prison officials say, since 9177, 99 percent of inmates who have escaped an adult institution, camp or community-based program have been apprehended.