Military vehicle snatched from SLO parking lot, then returned
October 25, 2018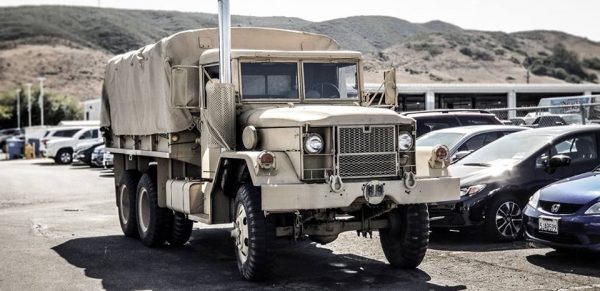 A suspect or suspects stole a 1970 military troop carrier that was parked in a San Luis Obispo parking lot Wednesday evening, then later returned the large vehicle as officers were searching for it, according to the San Luis Obispo Police Department. [Cal Coast Times]
The apparently privately owned beige military vehicle was stolen at about 7:45 p.m. from the Central Coast Brewing parking lot at 6 Higuera Street. The suspect got away without being caught on surveillance film, according to police.
Hours later, at about 2 a.m. on Thursday, an officer patrolling the area of Higuera Street and Elks Lane noticed the vehicle had been returned to the Central Coast Brewing parking lot. The vehicle was undamaged.
Police are still searching for the thief. The suspect would need to have experience with this type of vehicle due to its unique starting sequence, police said.
Officers are in contact with the owner of the vehicle. The military transport vehicle had no license plates.
Investigators are reviewing additional surveillance footage. Anyone who has information about the theft is asked to contact Officer Benson at (805) 594- 8059.