Nipomo man suspected of threatening to shoot up convalescent home
October 20, 2018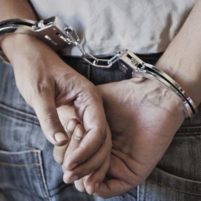 By JOSH FRIEDMAN
A Nipomo man who had multiple firearms on his property threatened to shoot up a Santa Maria convalescent home where his elderly mother was receiving care, according to the Santa Maria Police Department. [Cal Coast Times]
On Thursday afternoon, Robert Clement, 56,made multiple angry calls to the convalescent home. Over the course of the calls, Clement yelled profanities and eventually threatened to go to the business and "shoot up the place," police said.
Clement was allegedly angry over his perceived lack of care the workers at the home gave to his elderly mother. A staffer at the convalescent home immediately called 911 out of fear Clement would follow through on the threat.
Clement did have firearms registered to him, police said.
Officers obtained a search warrant for the property and an arrest warrant. With help from the San Luis Obispo County Sheriff's Office, Santa Maria officers conducted a "tactical arrest operation" and took Clement into custody without incident.
Police confiscated several firearms and held them as evidence. Officers booked Clement into the Santa Barbara County Jail.