Cal Poly SLO fraternity suspended over violent hazing
October 20, 2018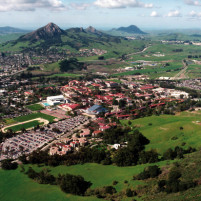 Cal Poly San Luis Obispo administrators suspended the campus chapter of the Lambda Phi Epsilon Asian Interest fraternity for a minimum of two academic years on Thursday because of a hazing ritual that left some pledges bloodied. [Mustang News]
After receiving a tip, campus administrators launched an investigation on Sept. 28. During the investigation, the university discovered the fraternity's hazing ritual included late-night dunkings in the ocean and unsafe knuckle pushups that left some pledges with broken skin and bloodied knuckles.
Pledges, including minors, were also give large amounts of alcohol.
As a result, the fraternity is suspended for two years or until all of their current members are no longer attending Cal Poly.