Arroyo Grande campaign worker charged with vandalism
November 27, 2018
By KAREN VELIE
A Caren Ray for mayor campaign worker with a history of vandalism and stealing campaign signs has been charged with felony vandalism for allegedly damaging more than $4,000 in city, business, campaign and personal property during the recent Arroyo Grande mayoral campaign, according to court records. [Cal Coast Times]
On Nov. 14, the San Luis Obispo County District Attorney's Office requested a warrant for Patty Welsh's arrest for felony vandalism. She is currently out of jail on $20,000 bail.
During the mayoral campaign, Welsh worked for the Ray campaign asking businesses and residence to put up Caren Ray for mayor signs.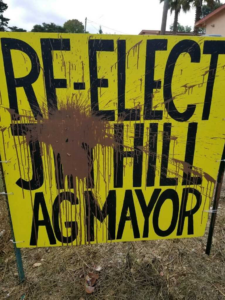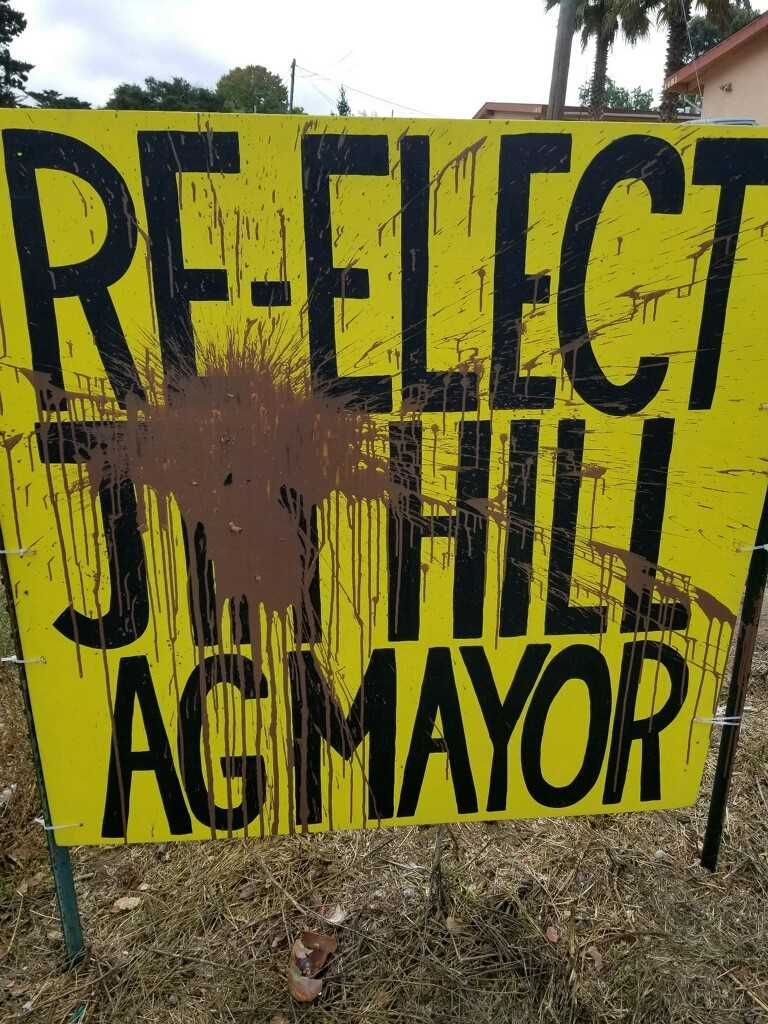 On Oct. 9, Welsh allegedly drove around Arroyo Grande tossing Christmas ornaments filled with brown paint at Jim Hill for mayor signs. During her rampage, Welsh also allegedly damaged the property of businesses and people who promoted Hill, Ray's opponent.
Witnesses told officers Welsh had threatened to steal Hill's signs, according to court records.
"Welsh has a history of vandalism and is a very vocal critic of Jim Hill," officer Vincent Johnson wrote in a search warrant affidavit.
Earlier this year, Welsh was charged with misdemeanor vandalism regarding a separate incident in Arroyo Grande.
On May 28, a woman returned to her car which was parked on Pradera Court in front of a side gate to Welsh's backyard and found her tire had been slashed and a message written on her windshield.
"Thanks for blocking my entrance" the message said.
Welsh admitted to officers that she was angry because she had to carry items she was taking to her backyard further because of the parked car. While Welsh took credit for the writing on the windshield, she denied slashing the tire, according to the police report. A claim officers did not believe.
Welsh is scheduled for a Dec. 4 trial setting conference for the tire slashing incident.
In 2016, while Welsh was working on the Hill for Mayor campaign, a homeowner spotted Welsh pilfering a city council candidate's signs. Members of the Hill campaign told Welsh to return the signs, but Welsh refused to comply, and she was removed from the Hill campaign, according to text messages. Welsh then became a vocal opponent of Hill.
In 2017, Welsh accused Hill of Brown Act violations, charges Ray used to mount an investigation that cost tax payers approximately $100,000.
While the investigators determined Hill had not violated the Brown Act, they found that Hill had shared his government email password with his wife.
In the Nov. 6 election, Ray won the mayor's seat with 4,782 votes to Hill's 4,250 votes.