Santa Maria chase morphs into deadly apartment fire
November 28, 2018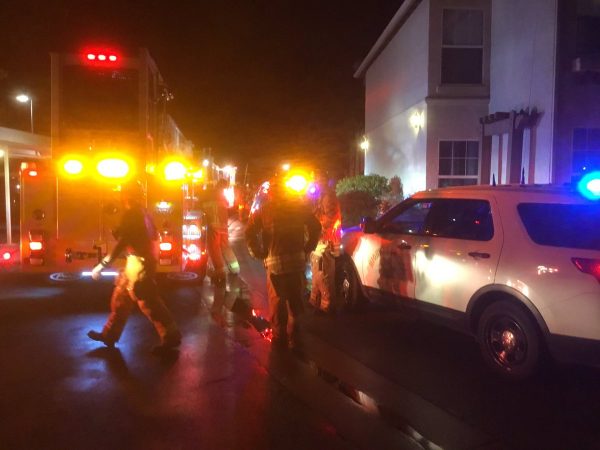 An attempted traffic stop in Santa Maria on Tuesday turned into a chase that ended with a man and his girlfriend barricading themselves in an apartment bathroom and setting the home on fire. The man died, and his girlfriend was hospitalized after being resuscitated by emergency responders. [KCOY]
At about 3 p.m., a CHP officer tried to stop a Jeep Liberty, which pulled out of the Mission Creek Village apartment complex at a high rate of speed. Officers pursued the Jeep but quickly lost track of it.
About 30 minutes later, officers spotted the Jeep in the parking lot of a nearby restaurant. After running the vehicle's registration, police contacted the owner of the Jeep, who is a tenant at Mission Creek Village.
Shortly afterwards, authorities determined that the couple they had been chasing — a man in his 20s and his girlfriend — were inside a Mission Creek Village apartment.
The tenant whom police contacted was the mother of the female suspect. The mother of the female suspect and the father of the male suspect made contact with the couple and then entered the apartment. Officers followed behind.
Upon entering the apartment, police smelled smoke and saw large plumes of smoke billowing from under a barricaded bedroom door. Officers tried to kick down the door and use a bean bag shotgun to enter the bedroom. However, the door was blocked by dressers.
A bed and several items of clothing were on fire, and the couple was barricaded inside a bathroom adjacent to the bedroom. Officers tried to break into the bathroom, but the flames spread and they had to retreat.
Santa Maria firefighters arrived and extinguished the blaze. When they managed to enter the bathroom, they found both the man and woman unconscious.
Firefighters brought the unconscious suspects downstairs and performed CPR. Emergency personnel managed to resuscitate the female suspect but not the male suspect.
Responders transported the female in an ambulance to Marian Regional Medical Center. Her pulse was restored, and she was breathing by the time the ambulance arrived at the hospital.
Her current condition is unclear.
Police say the deceased man was the person driving the Jeep. Investigators believe the man parked the vehicle at the restaurant, then he and his girlfriend ran to the apartment where they barricaded themselves.
Fire officials say the apartment, or townhome, was attached to six other units. Only one of the other units was damaged in the blaze.
An investigation into the incident is ongoing.