Prosecutors recommend cannabis kingpin spend 27 months in prison
May 23, 2022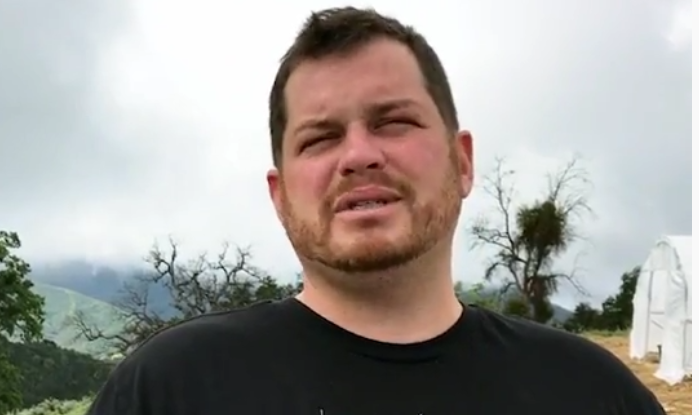 By KAREN VELIE
Federal prosecutors laid out more details of San Luis Obispo County cannabis kingpin Helios Dayspring's illegal activities as they recommended a 27-month sentence for bribery and tax evasion.
Dayspring pled guilty in 2021 to bribing San Luis Obispo County Supervisor Adam Hill and for cheating on his taxes. As part of a plea agreement, he agreed to pay restitution to the IRS and cooperate in the government's ongoing investigation. He is scheduled to be sentenced Friday in District Court in Los Angeles.
Adam Hill sought bribes from Dayspring, the defendant's memorandum revealed.
"As the government is aware, the evidence showed that County Supervisor 1 solicited Mr. Dayspring for things like rent, claiming his wife had left him and he couldn't afford to pay his rent, and for medicinal cannabis for his sick dog, playing on Mr. Dayspring's love of animals and especially sick dogs," according to Dayspring's legal team.
In his plea agreement, Dayspring admitted paying Hill multiple bribes in cash and money orders totaling $32,000. But prosecutors report that the value of bribes was over $32,000. The sentencing recommendation disclosed that Dayspring is responsible for between $95,000 and $150,000 in bribes.
"His lofty ambitions drove him to bribe a SLO County supervisor with tens of thousands in cash to advance and protect his cannabis growing operations, offer to bribe a mayor for cannabis distribution permits, and conceal over $9 million in income on his tax returns," according to prosecutors in their sentencing recommendation. "Defendant did this all with the intent to become the cannabis king of San Luis Obispo and Santa Barbara counties."
Federal agents confronted Dayspring after a multi-year investigation. Dayspring "accepted responsibility for his actions and assisted the government in its investigation," prosecutors wrote.
"With these factors in mind, the government's recommended sentence – 27 months in prison, followed by three years of supervised release – is sufficient, but not greater than necessary, to adequately punish and deter," they said.
Dayspring wore a wire in conversation with a public official, court documents revealed. But he was not able to get the official to admit wrong doing. Additionally, investigators informed Dayspring of an unsubstantiated death threat against him and told him to be on the alert.
Dayspring is asking to serve his sentence in home detention followed by 36 months probation. Dayspring also agreed to 500 hours community service, outpatient substance abuse treatment and to pay all taxes.
Dayspring has asked the court to take into account his entire life history, his attempts at rehabilitation, his substantial assistance to the corruption investigation, potential threats to his life and his public humiliation, as the judge determines whether he will serve time in federal prison.
Dayspring was the youngest of six children raised by a single mom, according to the defendant's memorandum. His family life was erratic, with the children at times placed in foster care. While in the 10th grade, Dayspring dropped out of school and began working.
"It is respectfully requested that the court consider the totality of Mr. Dayspring's life in determining what is an appropriate and necessary sentence to impose," according to the memorandum. "Helios is, and always will be, ashamed by his actions, is extremely remorseful, took a number of corrective actions prior to learning he was under investigation, and has spent the past two and a half years making amends for his actions."
After learning of the federal investigation and in response to the negative media reports, Dayspring reports he suffered from depression and health issues.
"As a result of the tremendous stress this case has occasioned, Mr. Dayspring's health has worsened markedly," according to the memorandum. "Helios has been overweight, for at least the past decade, but over the past two years his weight has ballooned to over 300 pounds and he was diagnosed recently as suffering from Crohn's disease."
Dayspring, who had dreamed of being on the cover of Forbes Magazine as the richest man in California, would not let anything get in the way of his goal of building a "cannabis empire," according to court documents.