Flood watch and wind advisories issued for San Luis Obispo County
January 3, 2023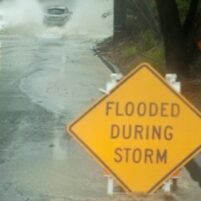 By KAREN VELIE
San Luis Obispo County will be under a flood watch and wind advisory from Wednesday afternoon through Thursday morning because of a heavy storm system expected to drench the county in rainfall, according to the National Weather Service.
An atmospheric river is expected to push through the Central Coast on Wednesday evening through Thursday morning, The storm is forecasted to bring periods of heavy rainfall of up to an inch per hour, which could lead to flooding across the region.
Rainfall totals of 2 to 4 inches will be common with 4 to 8 inches expected in the mountains, highest across the Santa Lucia mountains and Santa Ynez mountains.
Heavy rains and runoff could result in flooding of creeks, streams, and urban areas.
The storm is also expected to bring strong winds of 35 to 45 mph, with gusts up to 60 mph.
"Damaging winds could blow down large objects such as trees and power lines," according to the National Weather Service. "Power outages are possible. Travel could be difficult, especially for high profile vehicles."