SLO County hit with road closures, fallen trees, flooding – Updates
January 14, 2023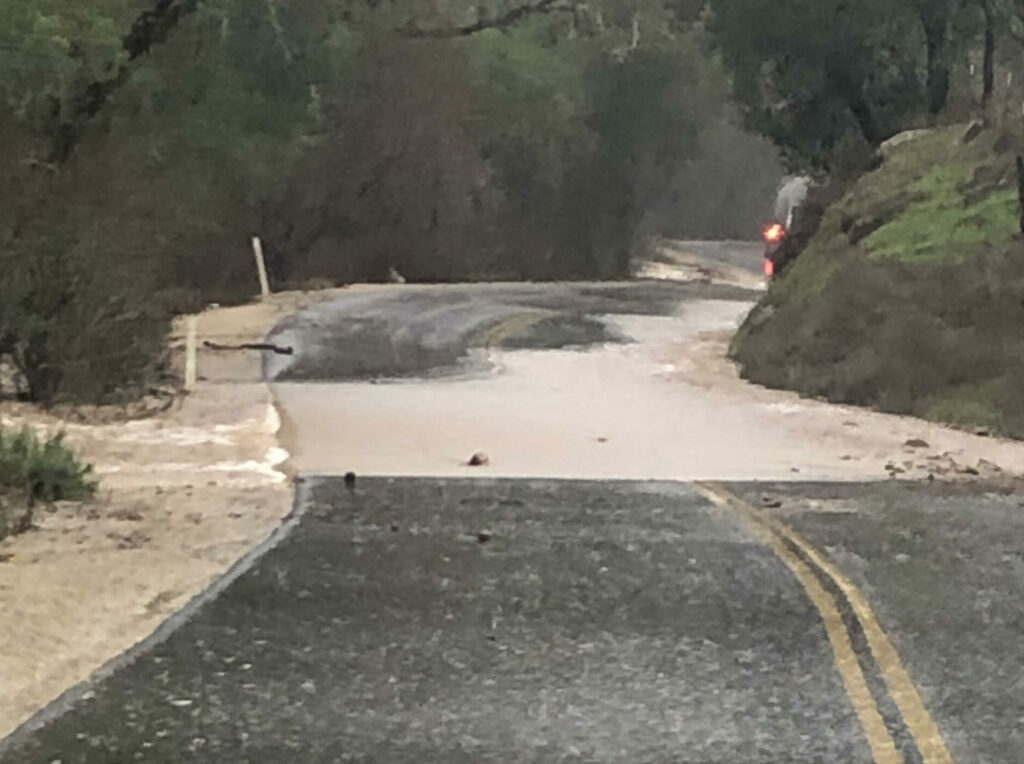 By KAREN VELIE
Steady rains are falling across San Luis Obispo County on Saturday morning, taxing already overwhelmed public agencies.
Even though only 1 to 4 inches of rain expected over the weekend, the ground is already soaked and resources are stretched. With increased flooding and wind gusts of up to 60 mph, more trees could fall.
Road closures and flooding with updates:
South Bay Boulevard from Santa Ysabel to Morro Bay city limits, closed
Thompson Avenue from Highway 166 to Ranch Road, Nipomo
Quintana Road near South Bay Boulevard in Morro Bay, soft closure
Turri Road is closed, Los Osos area
El Pomar Drive near Vaquero Road in rural Templeton, mud and rock slide
Highway 1 between Oso Flaco Road and Division Street in Nipomo closed
Evacuation warning for Los Osos residents living on Montana Way, Vista Court, Los Arboles Way, Los Padres Court, El Dorado Street and the southeast side of Marianela Lane, officers turning some drivers away from the area.
Highway 101 southbound on the Cuesta Grade, severe splitting in the slow lane
Highway 101 Marsh Street onramp and offramp closed in SLO
San Luis Bay drive in Avila Beach, flooding
Pecho Road closed from Montana Way to Rodman Drive in Los Osos
Santa Barbara Road and Hampton Court intersection in Atascadero, 3 feet of flooding, closed
Quintana Road in Morro Bay is flooded
Ardath Drive flooded at Trenton Street in Cambria
Lopez Drive obstructed by mud and rocks, near Lopez Lake entrance
Intersection of Pecho Road and Grove street flooded in Los Osos
Price Canyon Road is flooded at Thousand Hills Road near Pismo Beach
Ontario Road in Avila Beach closed
Salinas Avenue between Hawley and Eddy streets in Templeton is closed
South River Road at Spanish Camp Road in Paso Robles is closed
Airport Road at the Estrella River crossing in Paso Robles is closed
San Simeon Creek Road is closed
Avila Beach Road between Onatario Road and San Luis Bay Drive closed
Orcutt Road between SLO city limits and Biddle Ranch Road is closed
Old Creek Road between Highway 46 and Highway 1 near Cayucos is closed
Highway 1 at the elephant seals viewing area in SLO County is closed
Huasna Townsite Road at the bridge in rural Arroyo Grande is closed
Hausna Road closed at 1o330 in rural Arroro Grande
Corbett Canyon Road near Corbett Highlands Place c;osed
Penman Springs Road closed at Huer Huero Creek crossing in Creston closed
Creston Road between Neal Springs and Cripple Creek roads closed
River Road between Parkhill and Pozo roads closed in rural Santa Margarita
North River Road between Wellsona and Estrella roads closed in rural Paso Robles
Chimney Rock Road closed near Running Dear Road in the Lake Nicimiento area
Adelaida Road closed near Vineyard Drive in rural Templeton
Highway 229 closed between Highway 58 and Creston closed
Highway 166 collapsed near Nipomo, closed
Highway 33 near Nipomo closed
Upper Lopez Canyon Road closed
Cecchetti Road in Arroyo Grande closed
Avenales Ranch Road near Pozo Road
Tassajara Creek Road at the bridge in Santa Margarita closed
Peachy Canyon Road, about 2.5 miles from Paso Robles city limits closed
San Marcos Road between Highway 101 and Nacimiento Lake Drive closed