Arroyo Grande police searching for bank robber
February 26, 2023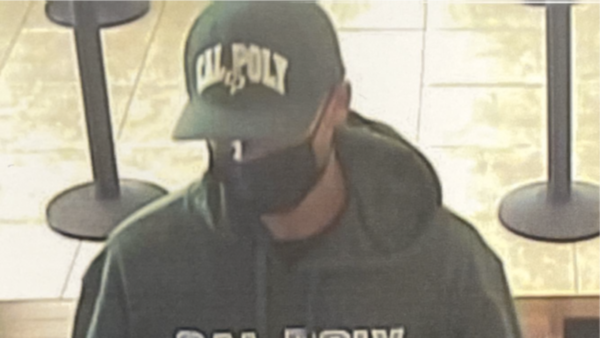 By KAREN VELIE
Arroyo Grande police are looking for a man who robbed a Chase Bank on Saturday.
Shortly before noon, the man walked into the Chase Bank on Rancho Parkway and handed the clerk a note demanding cash. He then fled in a gray four-door vehicle with a broken driver's side rear window that was taped closed.
The vehicle did not have any license plates at the time of the robbery.
Witnesses describe the robber as a light-skin man in his mid 30s. He was wearing a green Cal Poly hat and a Cal Poly hooded sweatshirt He also wore a black medical mask.
The investigation is ongoing, and officers are asking asking anyone who may have witnessed the incident or has information to contact the Arroyo Grande Police Department Detective Unit at (805) 473-5110.