California's growing challenge of dog overpopulation
February 24, 2023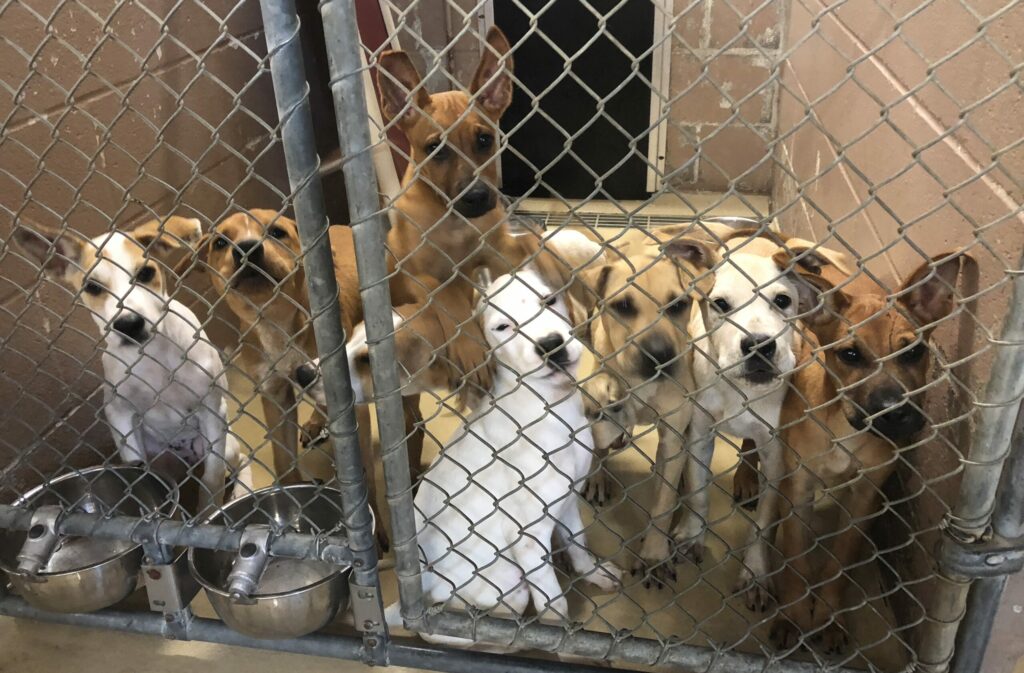 OPINION by DAVE CONGALTON
It's tough to be a dog in California right now, especially if you're unwanted, stashed away in a crowded cage with other unwanted dogs, hoping against hope to be adopted. Sadly, the odds are not in your favor.
At last count, Bakersfield was struggling with 300 dogs in a single shelter—the situation is so bad that they've started euthanizing puppies—puppies! Over in Fresno, there are currently more than 650 dogs, spread out in two separate facilities, available for adoption.
There isn't a single shelter in LA County where space isn't an issue. Even here, in San Luis Obispo County, our brand new expanded facility is already filled to capacity.
Two years ago, as COVID gripped the nation, you couldn't find a dog to adopt. Animal shelters were ghost towns. Everyone celebrated. Not anymore. Everything's changed. The reasons are many; the solutions are few.
Talk with local dog rescuers, like Charlotte Meade with Meade Canine Rescue in Creston, or Anouk Novy of Novy's Ark Dog Rescue in Atascadero, and the challenge becomes all too clear. Too many of us went back to work post-COVID and decided we no longer wanted to care for a dog.
Spay/neuter rates have plunged dramatically—University of Florida researchers report that U.S. veterinarians performed 2.7 million fewer spay and neuter surgeries in 2020 and 2021. It's not by coincidence that most of the dogs now clogging the shelters are less than two years old.
The problem is compounded by an increasing shortage of veterinarians. Those still in practice have often had to raise their spay/neuter fees. I've heard some local vets are currently charging upwards of $600 per dog. Sadly, too many people aren't willing to spend the money.
Equally troubling is the increase of people breeding and selling dogs for money. Officials over in Fresno have encountered homeless people on the street selling puppies for a quick buck. Animal lovers applauded recent legislation that bans pet stores from selling dogs and cats from breeders, but that didn't stop the selling. It only shifted everything from the store to the street and Craigslist.
There is no reason to believe the situation will change anytime soon. I submit that most people aren't even aware that there is a problem, so folks like Anouk Novy, Charlotte Meade, Cheri Lucas, and a handful of other volunteers (curiously all women) shoulder the burden of doing what they can, with what little resources they have. Personally, I don't know how they can go into these crammed shelters week after week.
On behalf of the dogs, I ask for your help. Obviously, the best thing you could do right now is to go and adopt a dog from a rescue group, but I also understand if there's no room at the inn where you live. So consider finding another way of supporting dog rescue work, either through volunteering, or donation. Every dollar counts. Every dollar helps.
There are hundreds of dog rescue groups scattered across California and they'd all appreciate anything you could do on their behalf.
I believe we have caring and responsible representatives in Sacramento in state Senator John Laird and Assemblywoman Dawn Addis. Funding for targeted spay/neuter programs may be the best way to reduce the dog overpopulation we're facing. Please email your representatives, or bring it up in public forums. Selling dogs, except through licensed breeders, should also be outlawed at either the city or county level. The profit motive must be removed.
Let's give these dogs a chance. It's up to us.
Dave Congalton is a radio host and animal welfare advocate who lives in San Luis Obispo.