Central Coast umpire pay dispute may impact prep baseball games
February 13, 2023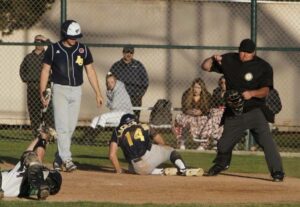 By JOSH FRIEDMAN
Central Coast baseball umpires and high school officials are engaged in a pay dispute that could result in teams primarily playing games on Saturdays this spring in order to accommodate out-of-area crews. [Tribune]
On Friday, contentious talks broke down between local umpires belonging to the Los Padres Baseball Umpire Association (LPBUA) and the Central Coast Athletic Association (CCAA). The CCAA consists of 16 high schools across San Luis Obispo County and northern Santa Barbara County.
The CCAA has offered the umpires a rate of $92 per game, plus additional money for mileage, for the high school baseball season that is scheduled to start later this month. The LPBUA rejected the offer and is demanding a pay increase for its umpires to $105 per game this season and rising to $125 over the course of three years. 
CCAA representatives say the California Interscholastic Federation sets the pay rates for umpires, and the LPBUA is asking for compensation outside of the federation's pay scale. Giving the LPBUA the pay raise it is seeking would set a precedent and have statewide implications for school sports officiating groups. 
Umpires in the federation's central section and southern section already receive the highest pay rate in California, the CCAA says. Local schools formerly belonged to the federation's southern section and currently are part of the central section.
An LPBUA representative said umpires can make significantly more money calling junior college and youth baseball games. LPBUA membership has declined from about 60 umpires to 40 over the last several years.
With no pay agreement in place and the high school baseball season about to start, the CCAA is now working with umpires from Fresno, Kern, San Joaquin and Santa Cruz counties. To accommodate the out-of-area umpires, schools are now moving forward with a backup plan of playing most baseball games on Saturdays, rather than weekdays, when they typically take place.