Coop fire kills turkeys in Buellton
February 21, 2023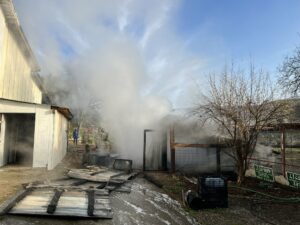 By JOSH FRIEDMAN
A coop fire killed an unknown number of turkeys in Buellton Tuesday morning. 
Shortly after 7 a.m., a caller reported the fire burning at Pork Palace on Highway 1, according to the Santa Barbara County Fire Department. A 15-foot by 20-foot coop was engulfed in flames.
Firefighters rescued multiple chickens. They quickly stopped the blaze from spreading to adjacent structures.
Separately, on Monday, a fence fire threatened a home in the 500 block of Victorian Court in Arroyo Grande. Five Cities firefighters and Cal Fire personnel extinguished the blaze, preventing it from spreading to the attic of the home.
No one suffered injuries as a result of the Arroyo Grande fire.