Driver hits Arroyo Grande officer with her vehicle
February 24, 2023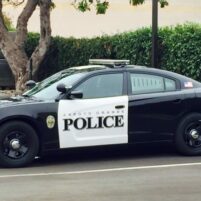 By JOSH FRIEDMAN
A woman whom police sought to detain is accused of intentionally injuring an Arroyo Grande Police officer with her vehicle Thursday evening. 
Shortly before 6 p.m., a 911 caller reported a man and a woman fighting in a retail parking lot on Grand Avenue in Arroyo Grande.
Officers tried to detain the suspects but the woman, later identified as 43-year-old Santa Maria resident Laura Lee Millar, attempted to flee in a vehicle, according to the Arroyo Grande Police Department.
Millar intentionally hit an officer with her vehicle before fleeing the scene, police said. Officers temporarily detained the male suspect.
CHP officers later located Millar in her vehicle in Buellton.
Officers arrested Millar for felony assault with a deadly weapon on a peace officer and booked her in San Luis Obispo County Jail. Millar remains in custody with her bail set at $100,000, according to the SLO County Sheriff's Office website.
Responders transported the injured officer to a local hospital where he received treatment for non-life threatening injuries. 
An investigation into the incident is ongoing. Arroyo Grande police ask anyone who witnessed the incident or has more information about it to contact Detective Doherty at (805) 473-5121.