Bomb squad called out to suspicious device in Arroyo Grande
March 30, 2023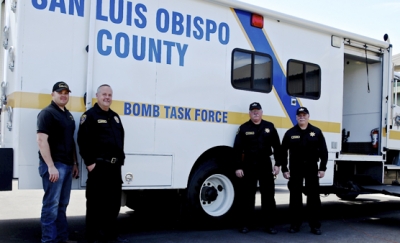 By JOSH FRIEDMAN
The San Luis Obispo County bomb squad came out to Arroyo Grande early Thursday morning to investigate a suspicious device that detectives eventually determined posed no risk to the public. 
At about 4:30 a.m., a person reported a suspicious package in the 400 block of Elm Street. Officers arrived at the scene and found a device with what appeared to be a security camera mounted to the top, according to the Arroyo Grande Police Department.
Because of the nature and appearance of the device, the police department requested the assistance of the SLO County Sheriff's Office Bomb Task Force. Arroyo Grande officers evacuated residents from nearby apartments, moving them to a shelter. 
The bomb squad arrived, examined the device and determined it did not pose a threat to the public. Police allowed residents to return to their homes and reopened roadways that authorities had closed. 
Police say the placement of the device does not appear to have been an intentional act. An investigation into the incident is ongoing.