Paso Robles council approves 135-unit apartment complex
April 24, 2023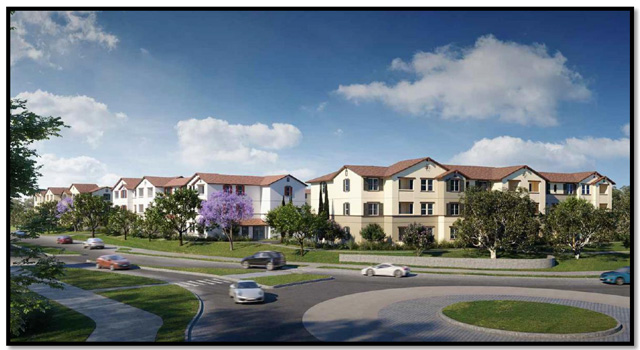 By JOSH FRIEDMAN
The Paso Robles City Council last week approved a proposed 135-unit apartment complex on Creston Road. [Paso Robles Daily News]
Red Tail Land Development plans to construct seven three-story apartment buildings and a one-story clubhouse on a 6.12-acre site at the intersection of Creston and Rolling Hills roads. The development, named the Rolling Hills Apartment Project, will contain 62 one-bedroom apartments, 52 two-bedroom apartments and 21 three-bedroom apartments.
Project plans also call for 267 parking spaces, a swimming pool, gym, park and the construction of a roundabout at the the intersection of Creston and Rolling Hills roads. Construction of the roundabout is expected to occur in 2025 and 2026.
At the April 18 council meeting, residents who live near the project site expressed disapproval of the development. Public comment speakers said the project would increase traffic in the area. [Paso Robles Press]
The council voted 3-1 in favor of the project, with Councilman Chris Bausch dissenting. Mayor Steve Martin did not attend the meeting. 
Bausch said the planned roundabout would not sufficiently mitigate traffic on Creston Road. He also suggested that the developer construct single or two-story buildings, rather than three-story, in areas bordering houses, so as to prevent apartment residents from looking down on adjacent homes. 
Councilman Steve Gregory, who voted in favor of the development, said the project is well designed. He also said he expects many improvements to be made in the area as part of the Creston Road Corridor Project, which will include improved road and sidewalk safety.