Teen arrested for assault, robbery and shooting in SLO
April 17, 2023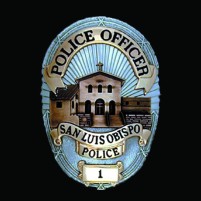 By JOSH FRIEDMAN
San Luis Obispo police officers arrested a teen who allegedly embarked upon a crime spree on Friday that included pistol-whipping and robbing a boy and firing gunshots in or around a parking lot.
Early Friday morning, police learned of an assault and robbery that took place in the 3900 block of South Higuera Street. A 17-year-old boy struck another 17-year-old boy in the forehead with the butt of a handgun, according to police. 
The victim tried to run away but fell. The assailant then punched and kicked him and took his cell phone. 
Later, the victim went to a local hospital to receive treatment for his injuries. 
The victim knew the suspect and identified him to investigators. A home surveillance camera also captured an image of the vehicle the suspect had been traveling in before and after the robbery. 
At about 11:40 p.m. Friday, 911 callers reported gunshots in the area of Sinsheimer Park off of Southwood Drive. Officers arrived at the park and found two cars parked next to each other in the parking lot with several people inside each vehicle.
Officers recognized one of the passengers as the suspect in the assault and robbery from earlier in the day. Police contacted the occupants of the vehicles and ordered them to exit the cars.
As the suspect exited the vehicle, an officer spotted an unloaded magazine for a gun on the floorboard, where the teen had been sitting. Officers then located a 9mm handgun underneath his seat. A records check for the weapon indicated it had been reported stolen from St. George, Utah in 2020.
Officers found eight recently fired bullet casings nearby in parking lot off of the 1100 block of Laurel Lane. Police checked the area for damage from gunshots and did not find any. 
Investigators ask anyone who lives in the area and has property damage caused by gunfire to contact police at (805) 781-7312.
Police arrested the teen suspect and booked him in the SLO County Juvenile Services Center on charges of felony carrying a loaded firearm in public, felony carrying a concealed firearm, misdemeanor minor in possession of a firearm, misdemeanor minor in possession of live ammunition, felony willful discharge of a firearm in a grossly negligent manner, felony robbery and felony assault with a deadly weapon.