Atascadero felon impersonates an officer, lands in jail
May 2, 2023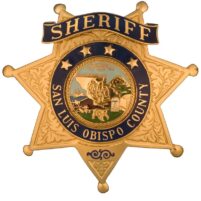 By JOSH FRIEDMAN
A heavily armed Atascadero felon is in jail after he allegedly impersonated a police officer, according to the San Luis Obispo County Sheriff's Office. 
On the night of April 14, deputies stopped a vehicle at the intersection of El Camino Real and Montecito Avenue in Atascadero. The driver, 37-year-old Andre Lamar Brown, had a semi-automatic handgun stuck in his waistband. The gun did not have a serial number.
Brown also had an active arrest warrant for his arrest for impersonating a police officer.
Brown is a convicted felon, who is prohibited from owning and possessing firearms and ammunition, according to the SLO County Sheriff's Office.
Investigators also located additional firearm magazines in Brown's vehicle. Deputies arrested Brown and booked him in San Luis Obispo County Jail. 
As the investigation continued, on April 25 deputies served a warrant at Brown's home on Rivera Lane and found more weapons. Officials then filled additional charges, including four counts of felon in possession of a firearm, two counts of possession of a short barreled rifle or shotgun and possession of a silencer. 
Brown currently remains in custody. No bail amount for Brown is listed on the sheriff's office website.