Fire burns more than 100 acres in California Valley
May 15, 2023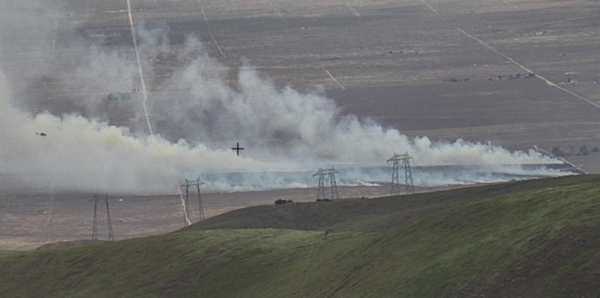 By JOSH FRIEDMAN
A vegetation fire burned more than 100 acres in California Valley in eastern San Luis Obispo County on Monday.
Initially reported as a structure fire, the blaze started at approximately 12:23 p.m. near the intersection of Angwin Trail and Alleghany Road off Highway 58, according to Cal Fire. The blaze is nearly fully contained, as of early evening. 
KSBY reports the fire started in a debris pile on Bureau of Land Management property and grew to 110 acres. Firefighters battled the blaze from both the air and the ground. They used seven fire trucks, two bulldozers and two air tankers in the firefight. 
Cal Fire Assistant Fire Chief Tom Swanson said grass fires are typical in California Valley at this time of year as the grass there dries out more quickly than other types of vegetation in other areas.