Fire destroys Oceano restaurant
May 12, 2023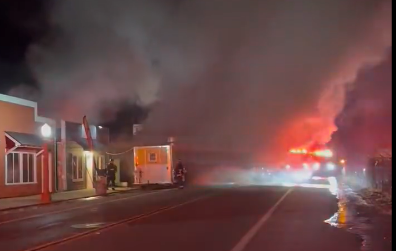 By KAREN VELIE
An early morning fire destroyed a Mexican restaurant on Front Street in Oceano on Friday, according to the Five Cities Fire Authority.
At about 1:30 a.m., a caller reported a fire at the Los Tamales Poblanos restaurant. Firefighters arrived to find the building completely engulfed in flames.
It took firefighters about 90 minutes to extinguish the blaze.
Firefighters were able to keep the fire from spreading to a home behind the restaurant. A Los Tamales Poblanos food truck sustained minor damage.
The cause of the fire remains under investigation.