Four people injured in DUI crash near SLO, video
May 9, 2023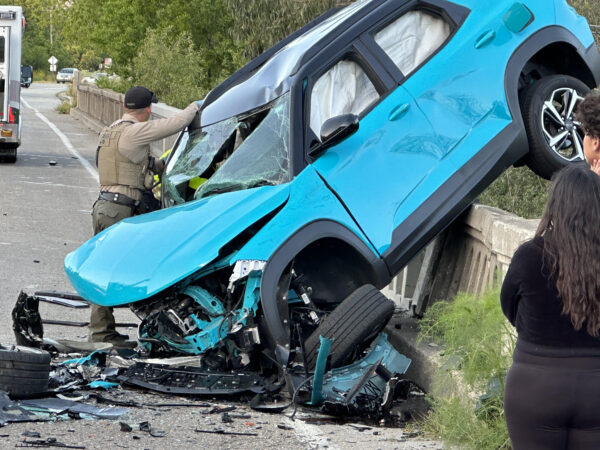 By KAREN VELIE and JOSH FRIEDMAN
Three people suffered major injuries and one man suffered minor injuries in a head-on DUI crash near San Luis Obispo on Monday evening, according to the California Highway Patrol.
Shortly after 7 p.m., a man in a black BMW sedan was headed northbound on Higuera Street near Highway 101 when he crossed into the southbound lane and collided head-on with a blue Chevrolet Traverse. The collision propelled the Traverse onto the concrete railing of a bridge, trapping two people inside.
Firefighters used the jaws of life to extricate first the passenger and then the driver.
Officers arrested and handcuffed the BMW driver, who sustained minor injuries. His passenger suffered major injuries.
Ambulances transported three of the patients to local hospitals, while a CHP patrol vehicle brought the DUI suspect to a hospital.
CalCoastNews will publish additional information about the crash as it becomes available.