Paso Robles police nab one alleged burglar, other gets away
May 22, 2023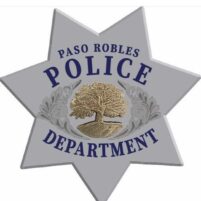 By JOSH FRIEDMAN
Paso Robles police officers caught one suspect, while another got away, after a residential burglary in the North County city on Sunday. 
Shortly after noon, a resident called 911 to report a burglary in progress in the 300 block of Montebello Oaks Drive. The person was not home at the time, but was alerted of the burglary by a RING surveillance camera system, according to the Paso Robles Police Department.
Patrol officers arrived at the scene and found a vehicle in the driveway of the home with a woman in the driver's seat. Officers searched the car and recovered a significant number of items that had been stolen from the home.
Officers arrested the woman who was in the driver's seat, 35-year-old Eliana Paola Pomar of Los Angeles, and booked her in the SLO County Jail on charges of first-degree residential burglary and conspiracy to commit a crime. 
Investigators determined a second suspect was involved in the burglary and fled by foot. Police used a K-9 to search the area, which led to the recovery of burglary tools and several articles of the suspect's clothing that officers seized as evidence.
Police did not manage to locate the second suspect. Officers describe the person as a light-skinned 25 to 35-year-old man, who was last seen wearing black pants and black and white Nike shoes. Officials request that anyone who has information about the outstanding suspect call the police department at (805) 237-6464.
Pomar remains in custody with her bail set at $50,000.