Reconstruction of bridge north of Morro Bay nears completion
May 30, 2023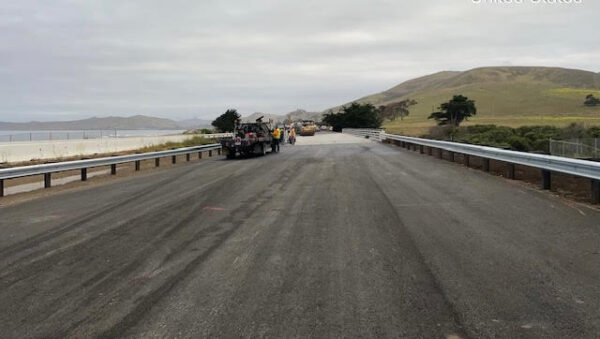 By JOSH FRIEDMAN
Drivers on Highway 1 are now traversing a new Toro Creek Bridge north of Morro Bay.
On Tuesday morning, Caltrans announced the demolishing and replacing of the Toro Creek Bridge is nearing completion. The rebuild of the bridge is complete on the northbound side of Highway 1, while the southbound side is expected to be finished soon.
Reconstruction of the bridge began in May 2022. Throughout construction, thus far, there had been one lane open to traffic in each direction. 
Now, traffic is flowing over the new bridge in both lanes on the northbound side of the highway and in one lane on the southbound side. Caltrans expects the second southbound lane to reopen early this summer.
The bridge reconstruction project costs $17.9 million. Of that total, $16.3 million came from Senate Bill 1, the Road Repair and Accountability Act of 2017.
"This bridge project is an important upgrade to our infrastructure and would not be possible without the availability of this funding source," Caltrans District 5 Director Scott Eades said in a statement.
The new Toro Creek Bridge meets current earthquake, geometric, hydraulic and structural standards.
Workers must still place plants along the bridge, which they will do over a two-year span. There will be intermittent lane and shoulder closures over the next few months.
San Luis Obispo-based Souza Construction has served as the main contractor for the Toro Creek Bridge project.