Train hits and kills pedestrian near Santa Barbara
May 23, 2023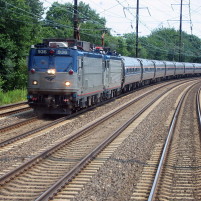 By JOSH FRIEDMAN
A train struck and killed a pedestrian near Santa Barbara on Monday night. 
Shortly after 10 p.m., a caller reported the collision north of Santa Barbara, according to Amtrak. Emergency personnel located the deceased person in the area of Modoc Road and Encore Drive. 
It is unclear what the person was doing on the train tracks. The identity of the victim is not being released pending notification of their next of kin.