Deputies arrest alleged identity thieves in Arroyo Grande
June 10, 2023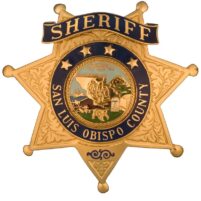 By KAREN VELIE
San Luis Obispo County sheriff deputies on Thursday arrested a couple in Arroyo Grande who are suspected of identity theft and burglary.
Shortly before 2 p.m. on Thursday, a deputy pulled over a vehicle with two different license plates. The deputy discovered the plates were not associated with the vehicle.
During a search of the vehicle, the deputy found access cards, stolen checks, illegal narcotics, narcotics paraphernalia, a lock pick set, a billy club and shaved car keys which are used for vehicle thefts.
Deputies arrested the driver, 43-year-old Christopher Mongenel of Barstow, and booked him in the SLO County Jail for possession of a billy club, possession of a controlled substance, possession of narcotic paraphernalia and possession of burglary tools.
His passenger, 39-year-old Anna Applegate of Barstow, was booked in the SLO County Jail on charges of possession/theft of identifying information of 10 or more persons.