Did Pismo Beach wait too long to close the slide?
June 28, 2023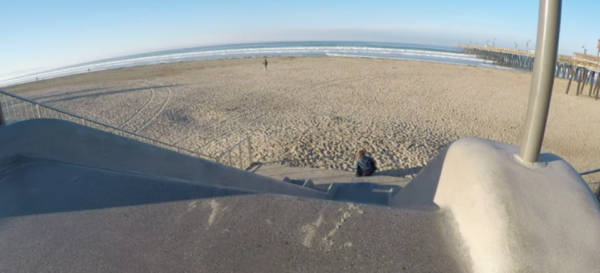 By KAREN VELIE
After more than 30 people suffered spinal, tailbone and other injuries, the City of Pismo Beach permanently closed the Pier Plaza slide last week.
Built as part of an $8.8 million pier revitalization project, the city opened the large slide that glides through the plaza floor leading to the beach below on Sept. 4, 2020. The attraction was an instant hit with locals and tourists alike.
Shortly afterwards, on Sept. 12, the first person suffered a significant injury on the slide. Since then, 35 reported injuries have led to at least 30 lawsuits filed against the city.
On June 2022, CalCoastNews filed a public records request for all lawsuits filed over the past five years. City staff responded by saying they do not keep track of all lawsuits in one place. More than a year later, the city has failed to provide the records, though they continue to dribble out copies of lawsuit filings.
Multiple law firms have sued the city for negligence, dangerous conditions, and product liability related to the slide. The slide's contractors, design firms and the City of Pismo Beach are named as defendants.
Even though the city which owns, maintains and manages the slide, was hit with approximately one lawsuit a month, the city kept the slide open.
Concerned with the plethora of lawsuits, in Oct. 2021, Vernon Edwards, the contractor who constructed the base area and installed the slide, sent the city a cease-and-desist demand. Based on the number of people injured and the mounting number of lawsuits, Edwards demanded the city immediately close the slide.
"The sheer volume of lawsuits and claims dictates that the city must immediately cease operation of the slide," according to the cease-and-desist letter. "It is very sad that the city chooses to keep the slide open even though it has allegedly and apparently will continue to injure the city's own residents."
At that time, the city refused to close the slide and the injuries and lawsuits continued for over a year, according to a Nov. 14, 2022 lawsuit filed against the city by Edwards' insurance carrier Travelers Property Causality Company of America.
Edwards installed the slide to the city's specifications, according to the lawsuit. Based on the city's involvement and failure to close the slide despite the injuries, the insurance company said they have no obligation to indemnify against damages.
In Dec. 2022, the city temporarily closed the slide after an atmospheric storm and tidal surge washed away sand at the base of the slide. On June 22, the city permanently closed the slide.
"For the past six months, the slides have been closed due to coastal tides that caused the sand to recede at the base of the slide," the city said in a press release. "Additionally, pending litigation resulting from the repeated misuse of the slide left little choice but to permanently close this unique coastal amenity."