Police capture wanted suspect in San Luis Obispo
June 1, 2023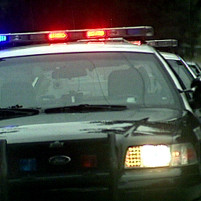 By JOSH FRIEDMAN
The man whom police officers hunted down on Wednesday, prompting a lockdown of San Luis Obispo High School, had been wanted for several months for allegedly committing a string of crimes in SLO. He also had evaded capture during a multi-agency search for him days prior. 
Jordan Smith, a 26-year-old transient living in San Luis Obispo, had been wanted for a parole violation, warrants and crimes including domestic violence, robbery, drug sales and resisting arrest. Last weekend, Smith led officers on an extended foot and aerial pursuit in an area near Tank Farm Road and Broad Street. 
SLO police officers, San Luis Obispo County Sheriff's deputies and a CHP helicopter crew all searched for Smith on the night of May 27. Yet, Smith managed to evade capture.
Then, at about 11 a.m. on Wednesday, investigators located Smith near the Amtrak station in SLO. Smith immediately ran toward the area of San Luis Obispo High.
Before reaching the high school, Smith gained access to the roof a home near the intersection of San Luis Drive and Johnson Avenue. The suspect tried to hide there from officers who were pursuing him.
Law enforcement notified SLO High, and officials placed the school on lockdown as a precautionary measure.
Members of the SLO Police Department Crisis Negotiations Team attempted to negotiate with Smith. Eventually, Smith agreed to surrender, and detectives took him into custody without further incident. 
Officials lifted the lockdown at the high school shortly after officers apprehended Smith. The lockdown lasted less than a half hour.
Authorities booked Smith in the SLO County Jail on a parole violation and for having three outstanding warrants.  Smith is not eligible for bail.
Police are submitting several additional cases against Smith to the San Luis Obispo County District Attorney's Office.