SLO High School officials buried sexual misconduct allegations for years
July 25, 2023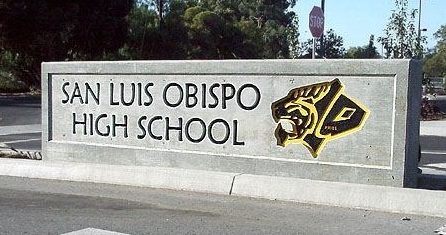 By KAREN VELIE
A female San Luis Obispo High School trainer accused head basketball coach and history teacher Jeff Brandow of sexual misconduct nearly a decade ago, but officials squelched her complaint and the harassment allegedly continued.
Despite the 2014 written complaint, school officials did not place Brandow, 39, on paid administrative leave until March 2023. In the interim, Brandow is accused of sexually harassing underage students, coaches, trainers, his students' mothers, a sports reporter and community members, many of whom have asked that their names not appear in articles.
In 2014, a trainer contracted to work with the basketball team informed her employer, San Luis Sports Therapy, that Brandow was acting inappropriately. She said he made comments about students, coaches and parents' bodies; drank beer at a school sports event; and insinuated he had had sex with students while he worked in the San Diego area.
After commenting on the trainer's body, Brandow asked if students pursued her for sex, she said. The trainer asked for anonymity in this article, though she is already speaking with an investigator looking into the allegations.
Brandow also threatened in a text to punch her in the face, the trainer said. She then informed San Luis Sports Therapy of the alleged ongoing misconduct. Her former supervisor confirmed the trainer's written complaint resulted in a meeting with then-SLO High School Principal Leslie O'Connor.
"He asked what I wanted, made me feel silly," the trainer said. "Leslie said, 'I know the number of people who know about this on one hand, let's keep it that way.'"
A handful of years later, Brandow, who was also the athletic director at the time, allegedly began harassing a coach he supervised. After noting that she was attractive, Brandow said that "high school boys probably hit on you," the coach said. The married mother of students at the school said Brandow repeatedly tried to get her to meet him in bars.
In 2018, a then-KSBY sports director filed for a restraining order against Brandow, who she said had become obsessed with her.
Over a period of two months, the KSBY reporter said Brandow contacted her 50 to 100 times a day, left violent voice messages calling her names, showed up at her home, sent emails to her work and personal accounts and constantly harassed her, according to court records.
On Aug. 22, 2018, Brandow arrived in court for the restraining order hearing and sat next to the reporter, even though she already had a temporary restraining order against him, she said. Shortly before the case was called, Brandow moved across the room.
Rattled, the reporter did not do a good job promoting her side to then Commissioner Erin Childs, she said. During the hearing, the reporter said she cried while a calm and collected Brandow claimed her allegations were untrue. Childs noted that if Brandow had applied for a restraining order against the reporter, she would have granted it, the journalist said.
Even though the reporter supplied the court with letters, text messages and other proof of harassment, Childs granted her a restraining order limited to only three months.
Several months after the order expired, the reporter left SLO County, KSBY and journalism.
During a short interview, Brandow told CalCoastNews he and the KSBY reporter were "dear friends," while the reporter said she never socialized with Brandow.
In 2018, Matt Cross, the owner of Broad Street Public House, permanently barred Brandow from the establishment because of the coach's sexual harassment of staff and customers, Cross said. Brandow claims he was never barred from Cross's establishment.
Brandow then allegedly told a second female trainer hired to work with the basketball team that she would not get her stipend unless she agreed to go on a date with him.
In 2019, Brandow stepped down as athletic director and basketball coach. But he continued teaching history to high school students.
However, in Feb. 2020, with a 14-13 record and three games remaining, school administrators brought Brandow back as head varsity basketball coach to finish the season.
In Oct. 2022, a group of students attended a party where one underage student allegedly shared inappropriate texts Brandow had sent her, according to several sources. Shortly afterward, SLO High School administrators learned of the texts and of comments Brandow made to the student in the classroom regarding "tits and ass."
School officials interviewed the underage student about the alleged sexual misconduct in Oct. 2022, but did not inform the student's parents.
However, Brandow was not placed on paid administrative leave until March.
This delay permitted Brandow to remain coach of the varsity basketball team, which he guided to the league championship. The league then named him Coach of the Year.
San Luis Coastal Unified School District Superintendent Eric Prater did not respond to questions about the 2014 complaint against Brandow while confirming the 2022 allegations regarding the underage student.
"The district was aware of allegations of misconduct in the fall of 2022 and immediately initiated an investigation and sought the cooperation of witnesses," Prater said. "If the investigation determines that misconduct occurred, rest assured, appropriate corrective measures will be taken quickly. The district will continue to take all necessary measures to protect student and staff safety."
If you have further information about Jeff Brandow or these incidents please contact reporter Karen Velie at (805) 234-1703.