Time to cast away stones
July 13, 2023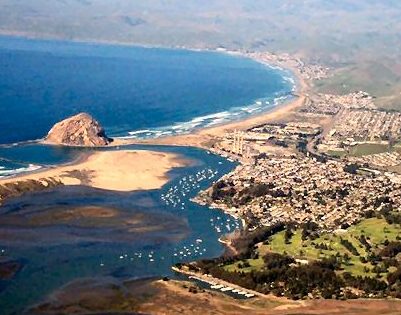 OPINION by RICHARD SADOWSKI
These words are the title of Stephen Kaltenbach's fountain sculpture outside the Sacramento Convention Center where the Pacific Wind Farm Summit was held in May 2023. Carved in the water fountain stones are these three questions; What have we thought? What have we wrought? How are we loving?
How do these questions reflect on the sign of the times? We who live in Morro Bay are at a point in time where our decisions and actions are going to have significant effects not only on our community but to generations of Californians to come.
What have we thought?
In 1958, Dr. Keeling from the San Diego Scripps Institute, started to record atm.CO2 (in parts per million ppm) at Mauna Loa, Hawaii and established the Keeling Curve. Atm.CO2 has increased by an average of 1.88 ppm per year over the past 43 years (1979-2022), however, the growth rate has accelerated to an averaged 2.4 ppm per year during the last decade (2012-2022). Note (1 ppm translates to 2.13 gigatons of carbon in the atmosphere.)
In 1965, the U.S. president at the time was Lyndon B. Johnson. LBJ's Science Advisory Committee drafted a report titled "Restoring the Quality of our Environment."
As well as detailing the very direct ways that human society was polluting air, water and land, the report contained an entire section discussing carbon dioxide from fossil fuels, which it poetically described as "the invisible pollutant. The report noted that "through his worldwide industrial civilization, man is unwittingly conducting a vast geophysical experiment," and that this will modify the heat balance of that atmosphere to such an extent that marked changes in climate not controllable through local or even national efforts could occur." (From Adam Levy, Knowable Magazine regarding LBJ's Report)
On Jan. 28,1969, an oil rig off the Santa Barbara coast had a blowout that caused oil to leak out at an estimated rate of 210,000 gallons a day causing Santa Barbara beaches to be befouled with tar and dotted with dead and dying oil-drenched birds. President Nixon visited Santa Barbara and stated; "What is involved is something much bigger than Santa Barbara" he continued, "What is involved is the use of our resources of the sea and the land in a more effective way, and with more concern for preserving the beauty and the natural resources that are so important to any kind of society that we want for the future. I don't think we have paid enough attention to this. We are going to do a better job than we have done in the past," he promised.
On Jan. 1, 1970, President Nixon signed the National Environmental Policy Act (NEPA) into law which required federal agencies to assess the environmental effects of proposed major federal actions prior to making decisions. Also in 1970, then California Governor Ronald Regan signed into law the California Environmental Quality Act (CEQA).
The baby boomer generation was in full swing in the late 1960's and 70's. We enjoyed a booming economy, where gas was cheap, cars were big and powerful and college affordable. Meanwhile, the "invisible pollutant," atm.CO2 was about to get supercharged
In 1965, what LBJ's Science Advisory Committee 'thought' was going to happen is happening right now in 2023.
What have we wrought?
In 2006, I was invited to the 1st American Society of Mechanical Engineers (ASME) Conference on Water Quality, Drought, Human Health and Engineering, hosted by the University of Nevada, Las Vegas (UNLV). During the 3-day Conference presenters showed scientific data and projections of an extended drought and intensity and frequency of wildfires in the western part of the United States. The discussion extended to the effects of extreme weather events on human health and society. Also present, were panelist representing some innovative technology to help adapt to the new projected norms.
This inspired me to write the 'Blue Carpet Treatment Water Management plan', an oceanic care plan that elevates the value of natural blue carbon sinks and would establish the first internationally recognized BAP (Biodiversity Action Plan) in the United States, to be located right here in the Morro Bay Estuary. In 2010 The Blue Carpet Treatment Water Management plan became part of President Obamas White Papers.
In the past few years, Californians have witnessed weather whiplash in the form of urban heat zones, extended drought, wildfires, flooding from atmospheric rivers causing overburdened waterways to overflow into communities and surcharging of storm and sewer collection infrastructure. What the boomer generation wrought on the future generations cannot be undone.
Meanwhile, the generations following us boomers are facing an existential crisis that we must take some accountability for. The simple facts are that the global atm.CO2 is rising at such a rate, that the United Nations IPCC report states that we will almost certainly sail past the semi-safe 1.5 climit set in 2015 by the Paris accord. With the ocean absorbing about 30% of the atm.CO2 released in the atmosphere, the chemistry of the ocean is changing resulting in Ocean Acidification. So, What have wrought will be paid for by those we leave behind.
How are we loving?
In 2004, Governor Schwarzenegger signed the California Ocean Protection Act (COPA) which created the OPC. My wife and I have attended OPC meetings since 2005 and one thing that has remained constant was science-based decision and policy making. In the past few years, Governor Newson responded from one end of the State to another witnessing firsthand the devastation to communities caused by prolonged drought, wildfires, and flooding. Under Governor Newsom's leadership the OPC have integrated the social implications of extreme weather events on public health and safety into science driven research and development policy recommendations.
The offshore wind farm endeavor is much bigger than just achieving a decarbonizing goal. It is bigger than facilitating a sustainable active funding source for coastal communities to address the challenges of climate change; it is a way for us to start healing as a state and a country. We need for the California Republicans to focus on promoting favorable business policies for California's renewable energy program. The California Demarcates must understand the urgent need for action and should support the Governor's efforts to expedite projects that will help get California off fossil fuel dependency; in addition, focus on creating public-private partnerships that will help fund the social needs of their respected communities.
So, how are we loving?
With respect to warnings based on climate science, history shows that the boomer generation actions have not been what I would call very loving when it comes to considering the generations that follow. Our continual addiction to fossil fuels and the resulting wars and global environmental degradation are only compounded by a willful ignorance to the sign of the times.
We have arrived at a crossroads in time where united we can move towards a direction where innovation, collaboration and cooperation can foster hope or we can stagnate and bog down any new progress with policies that ensure that those vested in the status quo continue to prosper.
In the past, Morro Bay had sustainable funding from a carbon polluting, once thru cooling power plant. Now, Morro Bay is poised to play a key role in helping California lead towards a renewable energy future. That future would bring an active, sustainable funding source to the city in the renewable energy market. Morro Bay being a safe harbor should provide facilities for offshore wind farm maintenance personnel and be a hub for first responders in event of emergencies.
So, my fellow baby boomers, what have we left behind?  One thing i do know we have not left behind, is the luxury of time for our kids to act?
Richard Sadowski is a 20-year resident of Morro Bay a mechanical engineer and a former Morro Bay Planning Commissioner.