King Harris, in his own words
August 11, 2023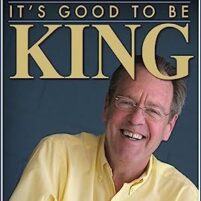 OPINION By DAVE CONGALTON
Many of us first came across King Harris while he was the anchor and news director at KEYT-TV in Santa Barbara. He became more of a local San Luis Obispo presence in 1998 after joining KVEC radio as morning host in an off-again, on-again role that continued through 2015. Along the way, King also stopped at New Times, Tolosa Press, and KCOY-TV in Santa Maria.
For the last year-and-a-half before his death in 2022, King displayed a deep, encyclopedic, almost manic, knowledge of the music of the 1950s and '60s in weekly radio segments.
Now, thanks to a new book, "It's Good To Be King" (C|C Imprint, 2023), readers have a chance to reconnect with some of King's best writing for Tolosa Press. He penned a weekly general interest column for several years, mining his own fascinating life for material. After all, this is a Vietnam veteran, a musician who worked in a recording studio with Herb Alpert, and a popular TV news anchor used to closing down Santa Barbara bars with Robert Mitchum.
The general interest column, once a cornerstone of any respectable newspaper, has become a casualty in this era of shrinking papers and slashed budgets. Revered columnists like Jack Smith in the Los Angeles Times or Anna Quindlen in The New York Times once made a career out of capturing the minutia of everyday life.
Thankfully, King picked up that journalistic torch in the mid-2000s when Tolosa Press editor Chris Gardner gave him carte blanche to write about . . . whatever. The 90 different pieces that made the cut for It's Good To Be King reflect a baby boomer life in full—growing up in the Bay Area, off to college in Portland, off to Vietnam, eventually finding his voice first in radio, then TV, meeting his wife Sara, the ups and downs of a rollercoaster broadcasting career.
The book, which features a number of photos from King's life, is organized around 11 different topics, including "Family," "Growing Up," "War," and "San Luis Obispo." The tone is informal and friendly—reading these stories today, one can easily picture King sitting across the table, grinning, as if talking to you directly.
A news junkie like me is immediately drawn to the essays in the "Santa Barbara" chapter and King's halcyon days at KEYT. He writes about covering the Painted Cave Fire while his own house is suffering damage. King pays heartfelt tribute to his former co-anchor, the late Debby Davison, and gleefully explains how he scooped arch rival KSBY in covering a congressional visit to the Channel Islands. He details his quixotic campaign to get his locally-produced documentary on Vietnam veterans aired on network television. All fascinating stuff.
There's more. King shares his decision to join the Naval Reserve after college to avoid going to Vietnam. Of course, he ends up . . . in Saigon, spending the year as a language instructor, teaching English. Vietnam is a reoccurring subject for King, a turning point—whether he's capturing wartime memories or beaming with well-deserved pride for his 1988 award-winning documentary "Brothers in Arms."
But Vietnam wasn't King's only battle. He survived polio at the tender age of six. He clashed with station owners and general managers repeatedly. And he drank, as King readily admits, way too much, though that battle he finally won, being sober for the last three years of his life. It's all here and on the page. King doesn't hold anything back. The guy never did.
I'm probably not the best person to review "It's Good To Be King." I love the guy too much to be objective and I'm still wrestling with his death more than a year later. Of course, I love this book, but I believe you will, too.
If you're a fan, well, these stories help complete the portrait of a guy who was more than a face on the TV or a voice on the radio. If you know nothing about King, then this is the perfect introduction to a one-of-a-kind broadcaster who took his work seriously, but never himself.
If there's a disappointment thumbing through these pages, it comes from knowing that King left us before he could hold the finished book in his hands. It is one of the great fortunes of my life to call King Harris a friend and colleague for 24 years. I think of him every day, but with this fine book, I feel King remaining close by—his wisdom, humor, and humanity readily within reach.
Check it out. "It's Good To Be King" is currently available in hardback from Bookshop.org or your favorite online retailer, as an e-book from Amazon.com or your favorite online e-book seller, and in paperback from King's website.
Dave Congalton is a radio host with KVEC 920 AM/92.5 FM in San Luis Obispo.