Misinformation incites outrage at Atascadero school board meeting
August 18, 2023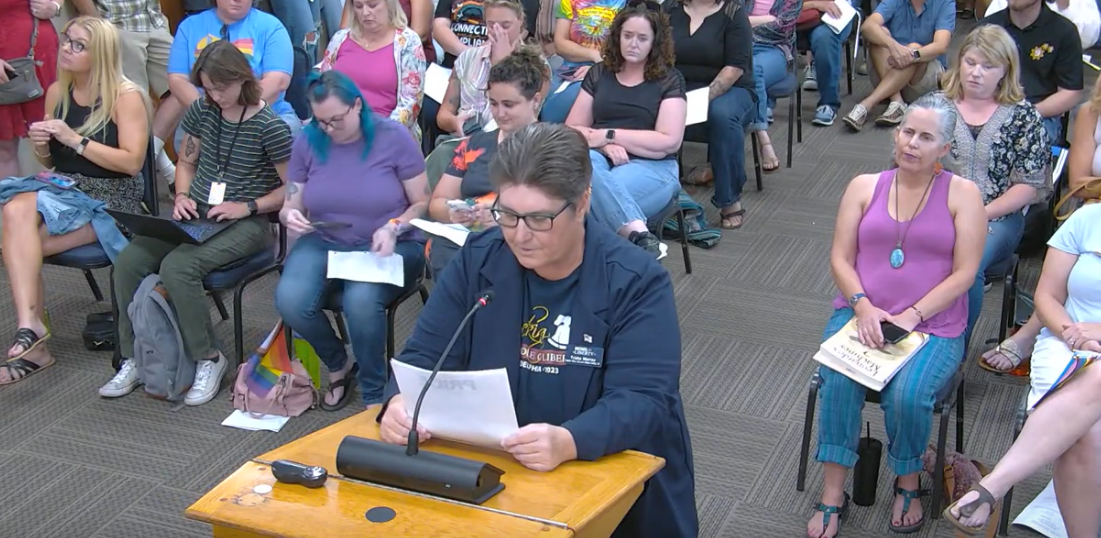 By KAREN VELIE
Dozens of people attended an Atascadero Unified School District meeting on Tuesday to support a teacher who was allegedly facing disciplinary action over a Pride flag she displayed in the classroom, concerns based on misinformation.
The inaccurate allegations, primarily distributed on social media, included claims that the board agenda listed disciplining the teacher, that the area Moms for Liberty group had called for the teacher to be fired and that the group was bussing in protesters. Before public comment started, Superintendent Tom Butler attempted to clear-up the misinformation.
"I'd like to clarify a few pieces of information that appear to be completely inaccurate," Butler said. "First and foremost, there's no discipline, there's no evaluative process with the teacher along the topic that many of you are here to discuss."
Even so, public comment went on for more than two hours. Trisha Murray, who is a lesbian and the chair of Moms for Liberty, said no one in her group wanted the teacher to be disciplined
"I do believe that teachers should not be bringing their political, religious or sexual ideologies into classrooms," Murray said. "Parents do have the right to direct the upbringing and education of their children based on the moral standards they teach in their home."
While the majority of the speakers voiced their support of hanging Pride flags at schools, five speakers disagreed with hanging non-government flags in the classroom.
However, no one disparaged or asked the board to discipline the teacher.
After two parents asked the district to move their children out of the sixth grade classroom where the flag was hanging, school officials informed the teacher, but did not order her to take the flag down.
Nevertheless, two teachers removed Pride flags from their classrooms in response to the request to move the children, including the sixth grade teacher.
In a private Moms for Liberty Facebook chat, Murray said she planned to voice her opinion at Tuesday's board meeting and she asked others to join her.
The social media misinformation campaign ensued, with dozens of people upset over the fictitious proposed discipline.