Officers investigate robber, workers following 7-Eleven beatdown
August 7, 2023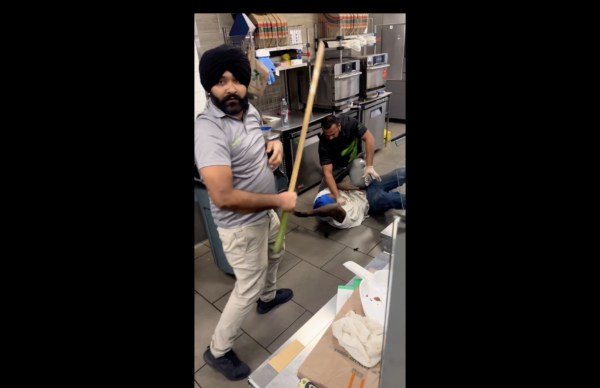 By JOSH FRIEDMAN
Police officers are investigating both an alleged robber and a pair of store employees who beat up the thief. The suspect is accused of attempting to rob a Stockton 7-Eleven two nights in a row.
Shocking video footage of the incident has spread over social media, sparking countless reactions. While many commenters applaud the 7-Eleven employees for defending themselves and their store, others argue the beating, particularly the repeated use of a broom handle, was excessive. 
On July 28 at 3:41 a.m., the suspect entered the store, went behind the counter and threatened to shoot an employee if he intervened. The suspect then took several packs of cigarettes and other items, placed them in a large garbage bag and fled the store, according to the Stockton Police Department.

Shortly after midnight the following day, the same suspect entered the business and demanded money while simulating he had a handgun. The employee did not comply, so the suspect began snatching cigarettes and other tobacco items off shelves while making movements suggesting he had a gun or was armed.
One employee then physically detains the suspect while the other worker beats him repeatedly with what appears to be a broom handle. Eventually, the thief pleads for an end to the beatdown, and following encouragement to do so by the videographer, the 7-Eleven workers let the man go. 
Before leaving the store, the suspect asks if he can take a soda.
Shortly after 3 a.m. on July 29, claiming he did not know if he had been assaulted, the suspect sought medical aid for pain in his leg and shoulder. Responders transported him to a local hospital.
Several days later, after reviewing video footage of the incident, police determined the injured man was the 7-Eleven robbery suspect.
The Stockton Police Department has combined the investigations into the suspected robberies and suspected assault. Upon completing its investigation, the police department will forward its findings to the San Joaquin County District Attorney's Office.