Lompoc police catch teen with loaded gun after foot chase
October 30, 2023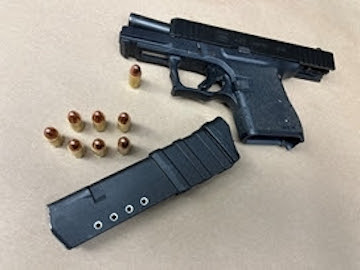 By JOSH FRIEDMAN
Lompoc police officers caught two teens who were spray painting graffiti on Sunday, one of whom was allegedly in possession of a loaded gun.
An officer witnessed two 17-year-old Hispanic boys spray painting gang related graffiti on the side of a business. The teens noticed the officer and fled, starting a foot pursuit, according to the Lompoc Police Department.
The officer caught up with one of the teens, who refused to comply with orders. The officer tased the suspect.
Once the teen was on the ground, the officer handcuffed and searched him. The officer found a loaded 9 mm privately manufactured firearm in the front waistband of the teen's pants. Police also determined the teen was on probation with an outstanding arrest warrant.
Upon arriving at the scene, other officers located the second suspect, who was hiding behind a parked car. Officers also found a black aerosol paint can believed to have been used to create the graffiti.
Officers transported the suspect who had the firearm to juvenile hall. Police opened a criminal case against the second teen and then released him to his parents. 
Police say additional criminal action will be taken action against an adult related to one of the juveniles. The adult is facing a charge of contributing to the delinquency of a minor.