Oceano CSD manager resigns amid contentious meeting
October 27, 2023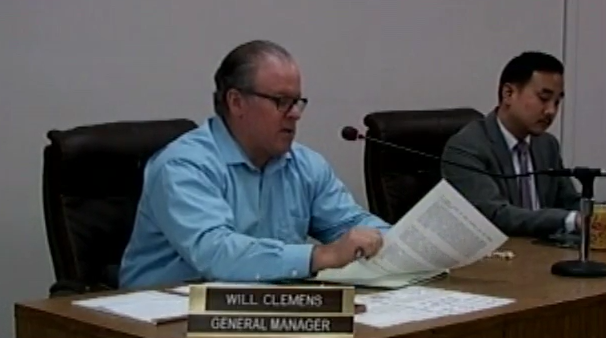 By KAREN VELIE
Only minutes into an Oct. 25 Oceano Community Services District meeting, General Manager Will Clemens announced plans to retire because a change in the makeup of the board has made his job untenable. Clemens is the second person to quit working for the district this month because of issues with the board.
"The district bylaws have been watered down to allow a board minority to control the agenda," Clemens said. "The baseless accusations against myself and other staff are disingenuous, and have created distractions from providing the vital public services and infrastructure this community needs and deserves."
For more than three hours, directors and attendees yelled, cursed and demeaned each other. Several attendees said they were concerned for their safety during the contentious Oct. 25 meeting.
In January, directors Beverly Suneson and Charles Varni joined the board. Since then, they have requested at least four performance reviews for Clemens.
Their primary complaints are related to a lack of attention Clemens allegedly paid to Suneson and Varni, and allegations he did not properly handle allegations of embezzlement against a previous employee.
While reviewing records during the summer of 2022, a bookkeeper noticed issues with an employee's vacation pay. Clemens placed Celia Ruiz on paid administrative leave in Aug. 2022. A month later, he fired her.
The district board then ordered a special audit into the allegation of embezzlement, along with direction to provide the findings to prosecutors.
Varni and Suneson argue Clemens and the previous board did not properly handle the issue. They believe Clemens should have taken the allegation of embezzlement to the SLO County District Attorney's Office without first conducting a forensic audit. They also claim Clemens was attempting to hide the embezzlement.
Former Oceano CSD Director Karen White — who served on the board for more than 10 years, including when the embezzlement occurred — said the board handled the allegation of embezzlement correctly.
"I want to correct Charles Varni on one thing, the embezzlement case," White said. "I was there, you weren't. It was handled correctly."
During the Oct. 25 meeting, Varni again refused to abide by the Ralph M. Brown Act, repeatedly attempting to disclose closed session employee issues. He claimed the embezzlement at the district was ongoing, even though the forensic report was provided to prosecutors months ago.
Two weeks ago, during a district board meeting in which Varni and Suneson refused to abide by the Brown Act, Attorney Daniel Cheung, with the firm Adamski Moroski Madden Cumberland & Green, announced the firm was resigning from the district.