The Ball Player's Son
October 21, 2023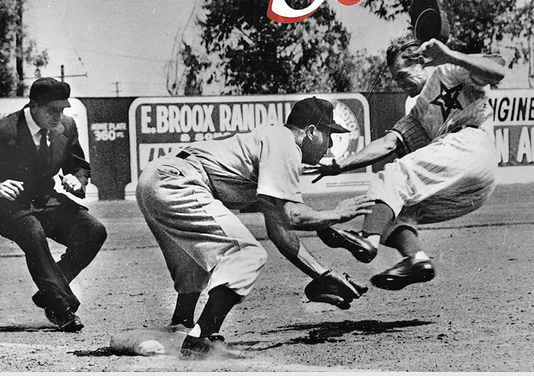 Editor's Note: The following series, "Life in Radically Gentrifying Cayucos by the Sea," to be posted biweekly includes the notes, thoughts, and opinions of an original American voice: author Dell Franklin. 
Franklin's memoir, "The ballplayer's Son" is currently on Amazon.
By DELL FRANKLIN
I have written a book about baseball. Hundreds of books yearly are written on baseball, mostly by scribes or journalists or biographers who pen bios, or ghost write memoirs on celebrity athletes with high profiles in our media, or were legends in their time, like Babe Ruth and Ted Williams and Ty Cobb and A Rod; or, in some cases, the difficult, against-the-odds ascents of current stars—stories that will give you hope and maybe pluck a tear from your eyes.
Not mine. My book is about a father who played professional baseball from 1937 until 1953 (with a loss of 3threeyears during WWII) and played only one full season in the major leagues, and what it was like growing up with such a man.
Baseball in America has this romantic aura of a happy father and son playing catch in the front yard. Movies have been made depicting this aura. It is as big a part of Americana as apple pie and the homecoming queen. But it was not like that with me.
My dad was busy playing professional baseball for the Hollywood Stars of the Pacific Coast League and spent half the time on the road in cities like San Francisco, Portland, Seattle and San Diego. And, when he was in town for a couple weeks for home game series, he took me to the ball park and introduced me to the inner sanctum of baseball culture as a 7 year old.
Here, his teammates took me under their wings and taught me to throw, field groundballs and play the simple game of pepper, which involved one player, holding a bat, standing about 15 feet from three players with gloves, and tapping their lobs back on the ground or on a line, going from one player to the next with precise bat control and turning the game almost into an acrobatic circus of pure joy.
Soon these mentors were shocked at my love of the game and my ability to participate without being treated like a little kid.
"Moe, the kid's a goddam phenom."
Moe was my dad. Murray "Big Moe" Franklin. A man who, like most of his team mates, had grown up in the Great Depression and served in WWII and played the rough and tumble game as professionals for years. I was soon referred to as "Meat." "Digger O'Dell." "Little Moe." Etc.
Few young kids experience a background like this. As a child, you know nothing about ego, or arrogance, or much of anything, except baseball, and you become a sponge absorbing the osmosis of the great game and, because of your fortunate genes and tutoring from pros, you are playing in the Little League majors at 9 with 11 and 12 year old kids, and it is then you realize your path will be different, because you are immediately held to a higher standard, your dad's standard, and, for the rest of your life, there is no escaping from it as the pressure grows into high school (all star team after all star team) and then collage and your dream of being a big leaguer–like your dad–never really dies.
Thus, the name of my book—The Ball Player's Son: Following the Footsteps and Escaping the Shadow of Big Moe Franklin." Now available with the publisher—Summer Game Books—at Coalesce book store in Morro Bay and on Amazon.
This is a book about my father, the players he played with and against, my own career, and, lastly, somehow, through all this, becoming a writer. There are, besides my own voice, 19 stories in my dad's voice about some of the great characters in the game—like Satchel Paige and Ted Williams—as well as players nobody knows about who were so bizarre and outlandish they became big stories by raconteurs at baseball association gatherings for decades.
As a columnist for CalCoastNews, I ask my readers to take in a book that is strictly about baseball in a manner nobody else has ever written about—as a ball player's son.