Makeshift motorhome sparks eight fires in Cayucos
May 2, 2016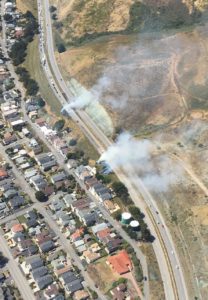 A 1954 Greyhound bus that was converted into a motorhome sparked eight fires along Highway 1 in Cayucos Sunday afternoon. The fires burned about 1.1 acres. [KSBY]
Shortly before 3 p.m., a person was driving the motorhome on Highway 1 and did not realize the vehicle's parking brake was on. The converted bus' brakes then overheated and began to disintegrate. Hot brake material landed in dry brush along the highway and quickly caught fire, according to the CHP.
Fire crews from the Cayucos Fire Department and Cal Fire San Luis Obispo responded and put out the fires in less than one hour. Authorities controlled traffic in the area for several hours to protect crews conducting mop-up work on the side of the road.
It is unclear if the driver of the motorhome faces fines or charges.