Plane headed to SLO crashes
January 16, 2015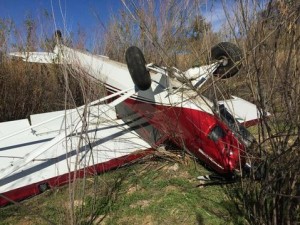 A plane headed to San Luis Obispo crashed Friday while trying to make an emergency landing on Highway 166.
Shortly after 10:30 a.m., the pilot radioed the San Luis Obispo airport to report the plane was having engine trouble.
Emergency responders then shut down a portion of Highway 166 so the plane could make an emergency landing.
However, the plane came to rest upside down in a riverbed adjacent to the highway.
The pilot, John Butler, 76, of Phoenix and his passenger Pamela Zirion, 67, of San Luis Obispo walked away uninjured from the crash.