Santa Maria robbers target Taco Bell
January 21, 2015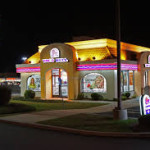 In recent months, Santa Maria robbers have targeted liquor stores, convenience stores, Kmart and a steakhouse. On Monday, it was Taco Bell's turn to get robbed. [KEYT]
Just after 6 a.m., two masked gentlemen entered the Taco Bell located at 1807 North Broadway. They informed workers that they had a gun and then demanded money, according to Santa Maria police.
But, the robbers opted to steal personal property from one of the employees and leave. No one suffered any injuries during the heist.
Taco Bell cameras inside and outside of the restaurant caught the robbery, but police have not yet found the suspects. The restaurant is located in a business district with shopping centers, hotels and other restaurants nearby.
Santa Maria police request that anyone with information about the crime contact the department at (805) 928-3781.