6 delicious dishes you can make with seasonal foods
March 6, 2015
Strawberries and artichokes are two locally grown favorites for March. The following recipes were provided by Spencer's Fresh Markets in Morro Bay and Santa Maria, both stores are carrying locally grown strawberries and artichokes.
1. Chocolate covered strawberries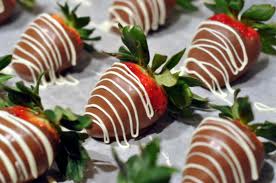 Adding a bit of shortening to the chocolate keeps the chocolate from cracking off the strawberry when you take the first bite.
• 16 ounces milk chocolate chips
• 2 tablespoons shortening (Rule of Thumb: 1 tbsp. for each cup of chocolate)
• 1 pound fresh strawberries with leaves
Directions: In a double boiler, melt the chocolate and shortening, stirring occasionally until smooth. Holding them by the toothpicks, dip the strawberries into the chocolate mixture. If I'm melting my chocolate in the microwave, I prefer using the defrost setting (not as hot) to avoid burning the chocolate. Set at 30 second increments and stir each time until ready.
— Insert toothpicks into the tops of the strawberries.
— Turn the strawberries upside down and insert the toothpick into Styrofoam for the chocolate to cool if you don't want that flat side. You can also place them on a cookie sheet lined with parchment paper.
2. Steamed whole artichokes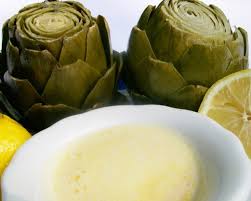 4 sprigs parsley (I like to sprinkle with some Italian Seasoning)
4 garlic cloves
2 bay leaves
2 lemons, cut in half
1/4 cup white wine
2 tablespoons olive oil
1 quart chicken broth or water
Salt and pepper, to taste
2 whole artichokes
• Directions: Put the parsley, garlic, bay leaves, lemons, wine, oil and broth in a large pot and bring to a simmer. Season the liquid with salt and pepper. In the meantime prepare the artichokes.
• Wash artichokes under cold water. Using a heavy stainless steel knife, cut off the stems close to the base. Pull off the lower petals that are small and tough. Cut off the top inch of the artichoke and rub with half a lemon to preserve the green color. Alternatively, you may put the artichokes in acidulated water. If you wish, trim the thorny tips of the petals with kitchen shears.
• Place the artichokes in the steaming liquid, bottom up. Cover and simmer for about 30 minutes. The artichokes are done when a knife is inserted into the base and there is no resistance. (Some of the larger artichokes may take up to 45 minutes, so don't panic.~T)
• To eat, pull off a leaf and scrape the meat off the tender end with your front teeth. Dip the ends of the leaves in lemon juice and melted butter if desired. When you reach the center cone of purple prickly leaves, remove it. This is the choke that protects the heart. Now, scrape away the thistle fuzz covering the artichoke heart. The heart is the meatiest part of the artichoke. Steamed artichokes may be served hot or cold.
3. Spiked strawberry-lime ice-cream pie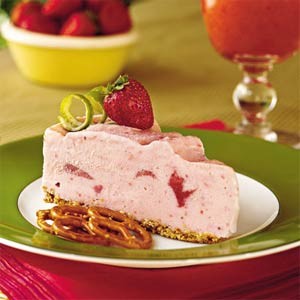 4 cups pretzel twists
1/2 cup butter, melted
2 tablespoons granulated sugar
1 (1/2-gallon) container premium strawberry ice cream
1 (16-ounce) container fresh strawberries (1 quart), stemmed
1/2 cup powdered sugar
1 (6-ounce) can frozen limeade concentrate, partially thawed
1/2 cup tequila
1/4 cup orange liqueur
Garnishes: lime rind curls, fresh whole strawberries, pretzels
Preparation:
1. Process first 3 ingredients in a food processor until pretzels are finely crushed. Firmly press mixture onto bottom of a lightly greased 10-inch spring form pan.
2. Bake at 350° for 10 minutes. Cool completely in pan on a wire rack.
3. Let strawberry ice cream stand at room temperature 20 minutes or until slightly softened.
4. Process strawberries and powdered sugar in food processor until pureed, stopping to scrape down sides.
5. Place ice cream in a large bowl; cut into large (3-inch) pieces. Fold strawberry mixture, limeade concentrate, tequila, and orange liqueur into ice cream until well blended. Spoon mixture into prepared crust in spring form pan. Freeze three hours or until firm. Let stand 10 minutes at room temperature before serving. Garnish, if desired.
4. Roasted artichokes
4 large whole artichokes, top 1 inch and stems removed
1/4 cup fresh lemon juice
1/4 cup olive oil
4 cloves garlic, cloves peeled and crushed
kosher salt
Directions
1. Preheat oven to 425 degrees F (220 degrees C).
2. Place artichokes stem-side down in a bowl and drizzle with lemon juice.
3. Slightly separate the artichoke leaves with your hands.
4. Insert a knife blade into the center of each artichoke to create a garlic clove-size space.
5. Drizzle each artichoke with olive oil.
6. Press 1 clove of garlic into the center of each artichoke and season with salt.
7. Tightly wrap each artichoke twice with heavy-duty aluminum foil.
8. Place in baking dish and bake in the preheated oven until sizzling, about 1 hour 20 minutes.
5. Strawberry lemonade muffins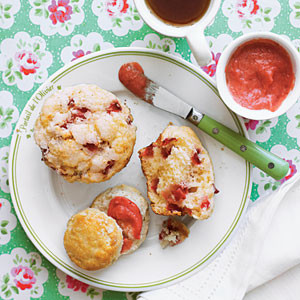 Top these off with the following strawberry curd recipe.
2 1/2 cups self-rising flour
1 1/4 cups sugar, divided
1 (8-oz.) container sour cream
1/2 cup butter, melted
1 tablespoon lemon zest
1/4 cup fresh lemon juice
2 large eggs, lightly beaten
1 1/2 cups diced fresh strawberries
Preparation
1. Preheat oven to 400°. Combine flour and 1 cup sugar in a large bowl; make a well in center of mixture.
2. Stir together sour cream and next 4 ingredients; add to flour mixture, stirring just until dry ingredients are moistened. Gently fold strawberries into batter. Spoon batter into lightly greased 12-cup muffin pans, filling three-fourths full. Sprinkle remaining 1/4 cup sugar over batter.
3. Bake at 400° for 16 to 18 minutes or until golden brown and a wooden pick inserted in center comes out clean. Cool in pans on a wire rack 1 minute; remove from pans to wire rack, and cool 10 minutes.
6. Strawberry curd
4 cups sliced fresh strawberries
1/2 cup sugar
2 tablespoons cornstarch
1/4 cup fresh lime juice
3 large eggs
2 large egg yolks
3 tablespoons butter
Preparation
Process strawberries in a blender or food processor until smooth, stopping to scrape down sides as needed. Press strawberries through a large wire-mesh strainer into a medium bowl, using back of a spoon to squeeze out juice; discard pulp and seeds. Combine sugar and cornstarch in a 3-qt. saucepan; gradually whisk in strawberry puree and fresh lime juice. Whisk in 3 large eggs and 2 egg yolks. Bring mixture to a boil over medium heat, whisking constantly, and cook, whisking constantly, 1 minute. Remove from heat, and whisk in butter. Place plastic wrap directly on warm curd (to prevent a film from forming); chill 8 hours. Serve with hot biscuits, Strawberry-Lemonade Muffins, or use as a filling for tart shells.