SLO Sex offender rips off bracelet, but caught
March 19, 2015
A San Luis Obispo sex offender ripped off his ankle bracelet on Wednesday, but did not evade parole agents for long.
Avril Leroy King, 40, served a six-year prison sentence for a violent sexual assault he committed in San Luis Obispo, according to the city police department. Following the crime in 2008, the Mustang Daily reported that King, then 33, was suspected of raping an 18-year-old woman in the San Luis Obispo creek.
The article states that, around 8 p.m. on a Thursday, the woman appeared outside the police department saying she had been sexually assaulted. She was wet and partially clothed at the time.
San Luis Obispo police say King was most recently released from prison on March 9. After his initial release in 2014, King cut off his ankle bracelet and subsequently served a six-month prison sentence.
Since his release earlier this month, King had been living at Sunny Acres on Los Osos Valley Road, according to police. He left for unknown reasons.
Around 5:50 a.m. on Wednesday, state parole agents notified the police department that King cut off his ankle bracelet within the previous hour and was believed to be in the San Luis Obispo area. Parole agents found the bracelet near the San Luis Obispo mission and located King hours later.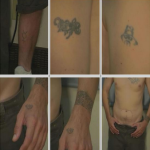 They took him into custody without incident.
A press release that police circulated prior to King's capture notes that the convicted sex offender has an assortment of tattoos. They include a skull on his lower abdomen, a "tribal band" on his left wrist, a leaf on the web of his left hand, a tiger on the left side of his chest, and a "Face with Derby" on his left shoulder.