Bomb squad removes pressure cooker from SLO sidewalk
April 26, 2015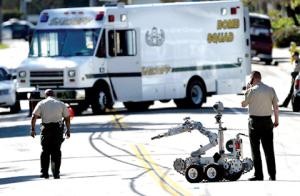 The San Luis Obispo Police Department called in the bomb squad Saturday night to remove a pressure cooker someone left setting in front of the Del Monte Café on Santa Barbara Street.
At about 8:30 p.m., a passerby spotted the pressure cooker setting outside the restaurant and called law enforcement. Officers arrived, closed off Santa Barbara Street between High and Upham streets and called in the bomb squad.
Pressure cookers are often used as improvised explosive devices, such as was used in the deadly Boston Marathon bombing in 2013, according to a SLO Police Department press release.
The San Luis Obispo County bomb squad determined the pressure cooker was safe and disposed of it.
Saturday's incident is not the first time roads have been closed and the bomb squad has been called out to secure appliances found on the streets of SLO.
In Jan. 2014, a pedestrian spotted a dildo partially wrapped in black electrical tape on Chorro Street near Pismo Street and called the SLO Police Department. Officers arrived, closed streets in a one block radius and called in the bomb squad.
The bomb task force robot, Andros, put the dildo in a containment vessel and drove it to a secure location.
Don't miss breaking news stories, like CCN on Facebook.