Is California indoctrinating youth through yoga?
April 6, 2015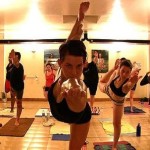 Students may continue practicing yoga in California public schools following a court ruling Friday. [LA Times]
The three-judge panel of California's 4th District Court of Appeal upheld a decision by the San Diego Superior Court that allows yoga in Encinitas schools. The K-6 Encinitas Unified School District currently offers grant-funded yoga classes that are taught twice a week in 30-minute increments.
The parents of two students sued on grounds that the yoga program promotes Hinduism, while the district discourages any display of Christianity. Their attorney argued that the yoga program violates a state law prohibiting religious instruction in public schools.
But, the superior court ruled that yoga is "devoid of any religious, mystical or spiritual trappings."
The superintendent of the district said yoga is part of an effort to teach students the benefits of exercise and healthful eating.
"We are not teaching religion, we are not instructing anyone in religious dogma," Superintendent Tim Baird said. "Yoga is very mainstream."
Parents of students in the yoga program can choose to have their children opt out. The parents who sued said that students who opt out are harassed, segregated, discriminated against and bullied.