Lenny Jones charged with molesting a third child
April 18, 2015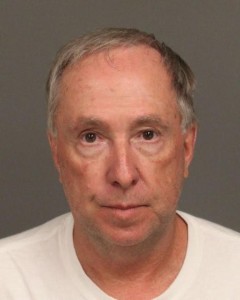 The San Luis Obispo District Attorney's Office filed five additional criminal charges against Lenny Jones after deputies identified a third child who Jones allegedly sexually molested last month.
Jones, Arroyo Grande's 2014 Citizen of the Year, is accused of kidnapping, penetrating with a foreign object, molesting two girls under 14 years of age and one girl under 10 years of age. The alleged molestations took place while the three girls were attending a birthday party at Jones' home in March.
The charges include felony oral copulation or sexual penetration with a child under 10 years of age, felony kidnapping for the purpose of child molestation, felony lewd acts with a child under 14 years of age, felony using a minor for sex acts, felony exploitation of a child, felony false imprisonment, misdemeanor annoying or molesting a child and misdemeanor destruction of evidence.
Local sources told CalCoastNews that this is not the first time Jones has been accused of child molestation or flashing a child. More than 20 years ago, Jones and a business associate parted ways after it was suspected Jones had inappropriately touched a child and, sources said.
Lenny Jones was a prominent realtor in the South County. He was Arroyo Grande's 2014 Citizen of the Year, president of the Woods Humane Society, the president of the Pismo Coast Association of Realtors, past president of the Rotary Club of Arroyo Grande, past board chair of the Arroyo Grande Chamber of Commerce, and was involved in Arroyo Grande in Bloom and the Arroyo Grande Tree Guild.
A few weeks ago, Jones stopped working in his Arroyo Grande real estate office, stepped down from several boards and told friends he was checking into a 30-day rehab center for an addiction, a source said.
Jones is currently incarcerated in the San Luis Obispo County Jail with his bail set at $1.1 million bail.
Investigators are asking for the public's help in identifying any other potential victims in this case by calling the San Luis Obispo County Sheriff's Office at (805) 781-4500.
Don't miss breaking news, like CCN on Facebook.