6 over the top dessert recipes
May 1, 2015
Some recipes are just meant to be shared. The following recipes were provided by Spencer's Fresh Markets in Morro Bay and Santa Maria.
Strawberry Sour Cream Cake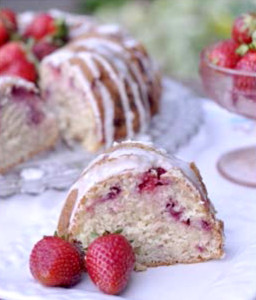 1 C butter, softened
2 C sugar
3 Eggs
4 Tbsp. lemon juice, divided
zest of 1 lemon
2 1/2 C flour, divided
1/2 tsp. baking soda
1/2 tsp. salt
8 oz. sour cream
1 1/2 C fresh strawberries, diced
(more whole ones for garnish-optional)
1 C powdered sugar
Directions:
1. Preheat oven to 375 degrees 2. Grease and flour a 10 inch tube (Bundt) pan. 3. Stir together 2 1/4 C flour, baking soda, salt. 4. Add in lemon zest and set aside. 5. With a mixer cream the butter and sugar until light and fluffy. 6. Beat in eggs, one at a time. 7. Stir in 2 Tbsp. lemon juice. 8. Alternate mixing the flour mixture and the sour cream until all is incorporated. 9. Mix strawberries in remaining 1/4 C of flour. Gently fold into the batter. 10. Pour into Bundt pan and reduce oven temperature to 325 degrees and bake for 60 minutes or until toothpick comes out clean. 11. Allow to cool for 20-30 minutes in the pan and then turn out onto a wire rack and cool completely. 12. Mix together powdered sugar and 2 Tbsp. of lemon juice to make glaze 13. Drizzle over top of cake. When glaze is dry, fill the center of the cake with additional whole strawberries as an optional garnish. Serve and enjoy!!
 ~~~~~~~~~~~~~~~~~~~~~~~~~~~~~~~~
Brown Butter Salted Caramel Snickerdoodles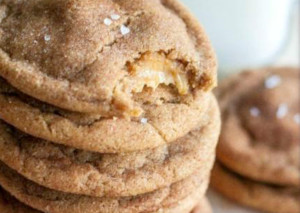 2 1/2 cup all-purpose gold medal flour
1 tsp. baking soda
2 tsp. cream of tartar
2 1/2 tsp ground cinnamon
1/2 tsp. sea salt
1 1/4 cup dark brown sugar
3/4 cup granulated sugar or Splenda
1 cup unsalted butter, sliced
1 large egg
1 Tbsp. vanilla extract
1 Tbsp. plain Greek yogurt
1 cup caramel squares, cut into 1/4's
coarse sea salt
Directions
1. In a medium sized bowl, mix the flour, baking soda, cream of tartar, cinnamon, and set aside. To brown the butter, heat a medium saucepan to medium high heat. Add the sliced butter, whisking frequently. You will notice the butter starting to become frothy on the top and brown specks will start to form along the
bottom.
2. You have to watch it closely because the turn happens quickly and you don't want it to burn. You will start to smell a nutty aroma and once it turns to a brown color, remove from heat and let it cool to room temperature. While the butter is cooling, cut the caramel squares into ¼'s.
3. In a stand mixer, combine the brown butter and brown sugar, and ½ cup granulated sugar. (The ¼ cup sugar will be used for rolling in the cookies). Mix until blended and smooth. Beat in egg, yolk, vanilla and yogurt and mix until combined. Slowly add the dry ingredients until combined.
4. Form the dough into a ball and cover with plastic. Chill in the refrigerator for at least 30 minutes or overnight. Once you are ready to bake preheat the oven to 350 degrees. Measure about 2 tablespoons of dough and roll into a ball.
5. Flatten the ball and place 1-2 caramel squares inside, wrap the cookie dough over the caramel and roll back into a ball. Make sure it is completely covered so that the caramel won't stick to the pan. Mix ¼ cup sugar and cinnamon in a small bowl and roll each cookie in the mixture.
6. Place on a cookies on a parchment lined cookie sheet 2 inches apart. Sprinkle lightly with sea salt. Bake for 8-10 minutes, or until the edges turn lightly brown. The centers will be soft. Allow to cool for 2-3 minutes, and transfer to a wire cooling rack to cool completely.
 ~~~~~~~~~~~~~~~~~~~~~~~~~~~~~~~~
Cinnamon Roll Cake
Warm and delicious…just like a cinnamon roll!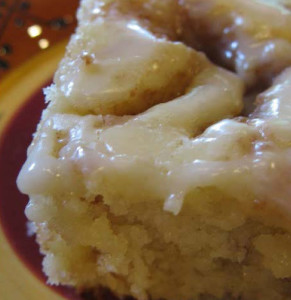 Cake:
3 c. flour
1/4 tsp. salt
1 c. sugar
4 tsp. baking powder
1 1/2 c. milk
2 tsp. vanilla
1/2 c. butter, melted
Topping:
1. butter softened
1 c. brown sugar
2 Tbsp. flour
1 Tbsp. cinnamon
Mix all the cake ingredients together except for the butter. Slowly stir in the melted butter and pour into a greased 9×13 pan. For the topping, mix all the ingredients together until well combined. Drop evenly over the batter and swirl with a knife. Bake at 350 for 28-32 minutes.
Glaze:
2 c. powdered sugar
5 Tbsp. milk
1 tsp. vanilla
1/2 c. butter, melted
While warm drizzle the glaze over the cake. Enjoy warm and right out of the oven!
 ~~~~~~~~~~~~~~~~~~~~~~~~~~~~~~~~
Dark Chocolate Cupcakes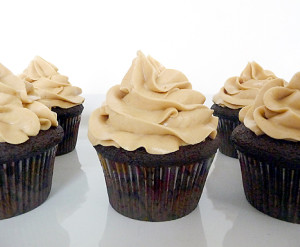 For the Cupcakes:
8 Tbsp. 1(1 stick) unsalted butter, cut into 4 pieces
2 oz. bittersweet chocolate,chopped
1/2 c. (1.5 oz.) Dutch-processed cocoa powder
3/4 c. (3.75 ounces) all-purpose flour
1/2 tsp. baking soda
3/4 tsp. baking powder
2 eggs
3/4 c.  (5.25 ounces) granulated sugar
1 tsp. vanilla extract
1/2 tsp. table salt
1/2 c. (4 ounces) sour cream
For the Peanut Butter Frosting:
1 c. confectioners' sugar
1 cup creamy peanut butter
5 Tbsp. unsalted butter, at room temperature
3/4 tsp. vanilla extract
1/4 tsp. kosher salt
1/3 c. heavy cream
Directions:
1. To make the Cupcakes: Adjust oven rack to lower-middle position and preheat to 350 degrees F. (If you are using a non-stick muffin pan, heat the oven to 325 degrees F.) Line standard-size muffin pan with baking cup liners.
2. Combine butter, chocolate, and cocoa in medium heatproof bowl. Set bowl over saucepan containing barely simmering water; heat mixture until butter and chocolate are melted and whisk until smooth and combined. (Alternately, you can microwave the mixture at 50% power, stirring every 30 seconds until completely melted.) Set aside to cool until just warm to the touch.
3. Whisk flour, baking soda, and baking powder in small bowl to combine.
4. Whisk eggs in second medium bowl to combine; add sugar, vanilla, and salt until fully incorporated. Add cooled chocolate mixture and whisk until combined. Sift about one-third of flour mixture over chocolate mixture and whisk until combined; whisk in sour cream until combined, then sift remaining flour mixture over and whisk until batter is homogeneous and thick.
5. Divide the batter evenly among muffin pan cups. Bake until skewer inserted into center of cupcakes comes out clean, 18 to 20 minutes.
6. Cool cupcakes in muffin pan on wire rack until cool enough to handle, about 15 minutes. Carefully lift each cupcake from muffin pan and set on wire rack. Cool to room temperature before icing, about 30 minutes.
7. To make the Peanut Butter Frosting: Place the confectioners' sugar, peanut butter, butter, vanilla and salt in the bowl of an electric mixer fitted with a paddle attachment. Mix on medium-low speed until creamy, scraping down the bowl with a rubber spatula as you work. Add the cream and beat on high speed until the mixture is light and smooth.
 ~~~~~~~~~~~~~~~~~~~~~~~~~~~~~~~~
Caramel-Pecan Bars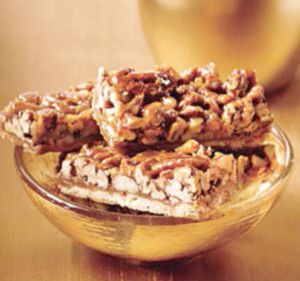 3 1/2 cups coarsely chopped pecans
2 cups all-purpose flour
2/3 cup powdered sugar
3/4 cup butter, cubed
1/2 cup firmly packed brown sugar
1/2 cup honey
2/3 cup butter
3 tablespoons whipping cream
Preparation
1. Preheat oven to 350°. Line bottom and sides of a 13- x 9-inch pan with heavy-duty aluminum foil, allowing 2 to 3 inches to extend over sides. Lightly grease foil.
2. Bake pecans in a single layer in a shallow pan 8 to 10 minutes or until lightly toasted and fragrant, stirring halfway through.
3. Pulse flour, powdered sugar, and 3/4 cup butter in a food processor 5 to 6 times or until mixture resembles coarse meal. Press mixture on bottom and 3/4 inch up sides of prepared pan.
4. Bake at 350° for 20 minutes or until edges are lightly browned. Cool completely on a wire rack (about 15 minutes).
5. Bring brown sugar and next 3 ingredients to a boil in a 3-qt. saucepan over medium-high heat. Stir in toasted pecans, and spoon hot filling into prepared crust.
6. Bake at 350° for 25 to 30 minutes or until golden and bubbly. Cool completely on a wire rack (about 30 minutes). Lift baked bars from pan, using foil sides as handles. Transfer to a cutting board; cut into bars.
 ~~~~~~~~~~~~~~~~~~~~~~~~~~~~~~~~
Caramelized Banana Pudding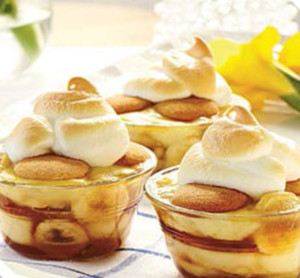 1/2 cup firmly packed light brown sugar
1/4 cup butter
1/4 teaspoon ground cinnamon
4 large ripe bananas, sliced
1 cup granulated sugar, divided
1/3 cup all-purpose flour
2 large eggs
2 cups milk
4 large eggs, separated
2 teaspoons vanilla extract
48 vanilla wafers
Preparation
1. Cook first 3 ingredients in a large skillet over medium heat, stirring constantly, 2 to 3 minutes or until bubbly. Add bananas; cook 2 to 3 minutes or until thoroughly heated. Remove from heat.
2. Whisk together 3/4 cup granulated sugar, next 3 ingredients, and 4 egg yolks in a heavy saucepan. Cook over medium-low heat, whisking constantly, 8 to 10 minutes or until a pudding-like thickness. (Mixture will just begin to bubble and will hold soft peaks when whisk is lifted.) Remove from heat, and stir in vanilla.
3. Divide half of banana mixture, pudding, and wafers among 8 (1-cup) ramekins or ovenproof glass dishes. Layer with remaining banana mixture, pudding, and vanilla wafers.
4. Beat 4 egg whites at high speed with an electric mixer until foamy. Add remaining 1/4 cup granulated sugar, 1 Tbsp. at a time, beating until stiff peaks form and sugar
dissolves (2 to 4 minutes). Spread meringue over ramekins. Place ramekins on a baking sheet.
5. Bake at 325° for 15 to 20 minutes or until meringue is golden. Let cool on a wire rack 30 minutes.
Note: For the best flavor, choose firm, ripe bananas with brown speckles.