Could a tsunami swamp California?
June 1, 2015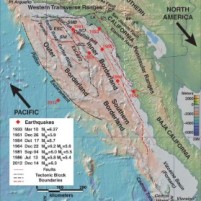 A Southern California geologist is warning of the possibility of a tsunami slamming into Los Angeles and wreaking havoc on California's coastline. [NBC News]
Mark Legg, the lead author of a newly published study, says offshore faults are capable of generating magnitude-8 earthquakes and triggering tsunamis in the state. The tsunamis may just produce 1 or 2-meter surges, but they could have huge impacts on Southern California's ports, Legg says.
On Friday, the Journal of Geophysical Research: Earth Surface published Legg's study, which focuses on the seismic potential of the California Continental Borderland region. The Borderland, which includes the Channel Islands, contains several underwater faults that are caused by the Pacific tectonic plate and the North American Plate grinding against one another.
Within the region, Legg focused on the Santa Cruz-Catalina Ridge Fault and Ferrelo Fault, both of which he says are capable of generating magnitude-8 quakes. Legg argues the seismic potential of the area has not been examined carefully and more resources should be devoted to mapping the seafloor.
Other earthquake experts insist the hazard posed by the faults has been sufficiently studied. Additionally, critics are questioning Legg's timing.
Legg published the study just as the Hollywood film San Andreas was being released. The movie depicts the San Andreas Fault generating a massive earthquake that rips through California.