Fire burns 76 acres near SLO County line
June 16, 2015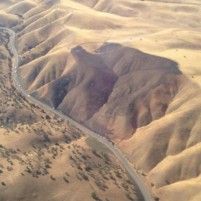 A grassfire has spread across at least 76 acres of northwestern Kern County.
The fire started at 3:46 p.m. Monday, according to Cal Fire. The blaze is situated in the Cottonwood Pass area near Highway 41 and close to the San Luis Obispo, Monterey and Kings county lines.
The fire is approximately 30 miles northeast of Paso Robles. Within three hours, the blaze had covered 76 acres.
A tweet posted by Cal Fire Monday evening stated the fire was 50 percent contained.
San Luis Obispo County's branch of Cal Fire has sent five engines, one water tanker and a bulldozer, as well as four aircrafts to battle the blaze, the Tribune reported. Crews from Monterey County are also assisting Kern County firefighters.