Bomb threat at Mustang Village
July 7, 2015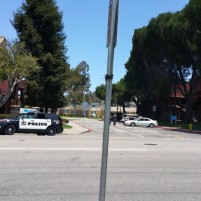 Renters at Mustang Village Apartments in San Luis Obispo were evacuated Tuesday after the complex received a bomb threat.
Shortly before noon, employees at the off campus Cal Poly student housing complex knocked on 514 apartment doors and ordered residents to evacuate the premises because of a bomb threat. As renters left, police arrived.
San Luis Obispo Police said they do not know when renters will be permitted to return to their homes. Police are not providing more information at this time
Like CalCoastNews on Facebook, and receive links to story updates.