Chowchilla kidnapper released from CMC
August 8, 2015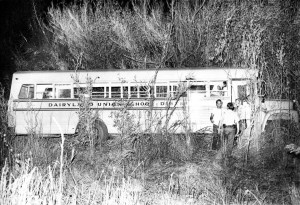 One of the three men who kidnapped a busload of Chowchilla schoolchildren and their bus driver in 1976 was released Friday afternoon from the California Men's Colony in San Luis Obispo County.
Last week Gov. Jerry Brown permitted the parole board's decision to release James Schoenfeld, 63, to stand. Schoenfeld is slated to serve his parole in San Francisco County.
On July 15, 1976, James Schoenfeld, along with his brother Richard Schoenfeld and their friend Frederick Woods, kidnapped 26 children and an adult bus driver from their bus. The kidnappers hid the bus, and loaded the children— who were ages 5 to 14 — and the driver into two vans they drove to a quarry near Livermore.
The kidnappers then forced their victims through a hole into a buried trailer stocked with mattresses, food and water and equipped with fans and ventilation. The bus driver freed himself and the children before the kidnappers had made their $5 million ransom demand.
The three men plead guilty and were eventually sentenced to life in prison with the potential for parole.
Richard Schoenfeld was released on June 20, 2012. Woods remains in prison after he was denied parole for the 14th time in 2012.
Don't miss links to breaking news stories, like CCN on Facebook.