Plane crash victims' questionable pasts
August 9, 2015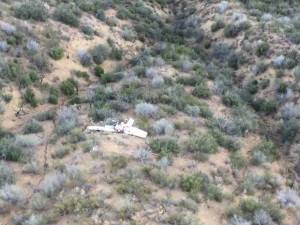 By KAREN VELIE
Exclusive: The two men identified in a plane crash in the backcountry of Santa Barbara have been identified as a San Diego pilot and a businessman, both of whom have questionable backgrounds.
The pilot, David Keith Martz, 58, and his passenger, 56-year-old Birger Greg Bacino died in the Thursday night crash. Officials said Bacino had hired Martz, a commercial pilot, to fly him to a business meeting in San Luis Obispo in a plane rented in San Diego.
Since 1986, Martz license has been revoked or suspended four times, once for having sex while piloting a helicopter. Martz made headlines in 2009 for filming porn star Puma Swede performing oral sex on him as they flew over San Diego.
In 2010, Bacino plead guilty to workers compensation fraud, according to the Claims Journal.
According to court records, Bacino had been a successful trial lawyer when he decided to change occupations and became a real estate developer heavily involved in health care management. After several years, Bacino plead guilty to a criminal charge of capping (capping is illegal ambulance chasing).
In 2014, La Jolla Bank contested Bacino's bankruptcy filing seeking relief of more than $14 million owed to the bank. The bank claimed Bacino's bankruptcy filing should not result in discharging his debt because of Bacino's false statements or fraud, according to a 2014 court decision in which a judge ruled in favor of the bank.
In 2015, Bacino started Ftlb LLC, a medical management company.
Last week, Martz flew Bacino to San Luis Obispo for a business meeting. On their return flight, Martz left the San Luis Obispo airport at about 9 p.m. and reported engine trouble shortly before their plane crashed in the Los Padres National Forest.