Second person killed in Central Coast plane crash
August 8, 2015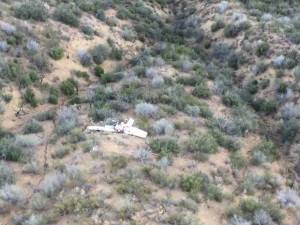 A second person died in a Thursday night plane crash in a remote area of Santa Barbara County.
The plane reportedly took off from an airport in  San Luis Obispo County en route to San Diego. Authorities found the body of the pilot inside the plane Friday morning.
On Friday evening, the Santa Barbara County Sheriff's Office issued a press releasing stating a second victim was found. Both victims are males in their 50s or 60s, according to the sheriff's office.
Authorities have yet to release the identities of the victims. The Santa Barbara County coroner's unit was in the process of identifying victims Friday evening, according to the news release.
The plane crashed just north of Jameson Lake and about 30 to 40 miles north of Ojai. The crash site was near the Don Victor Trail.
Around 10 p.m. Thursday, the Emergency Communications Center received a "Mayday" report, stating a small aircraft was experiencing engine trouble. Shortly after, it was believed the plane had crashed on land in Santa Barbara County , in Ventura County or in the ocean.
At approximately 4:30 a.m. Friday, the Ventura County Air Unit spotted the wreckage of the plane. The aircraft crashed in an area with rugged terrain, and responders did not gain access to the crash site until approximately 7 a.m. on Friday.
Search and rescue workers had to extricate the pilot from the plane. Santa Barbara County's search and rescue team, along with county air support personnel, recovered the second victim in the plane, according to the sheriff's news release.
The National Transportation Safety Board will conduct an investigation into the cause of the crash and the surrounding circumstances.